Penang gangsta now married!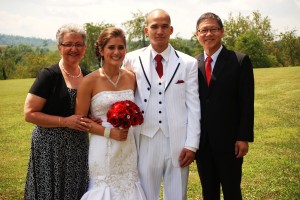 Choby Siau married recently and we were all happy for him. We wish him and his wife, Esther, God's very best. Choby had a tumultous, topsy-turvy life of danger and broke the hearts of his missionary parents, until Jesus turned him around completely and delivered him safely from his Penang gang. Now he is a bold Pittsburg preacher studying to finish college even though once he was given up on as an academic failure. God is the Master of turn-arounds.
Two years ago, we did a makeshift taping of his testimony in my office. Hung up an available display tablecloth and to act as a backdrop, did some editing and then posted it on YouTube, where I am sure even pre-believers have visited and listened.

You can follow any responses to this entry through the RSS 2.0 feed. You can leave a response, or trackback from your own site.