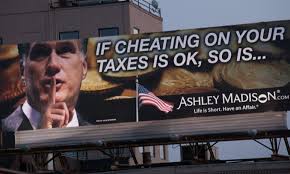 Why bother?
Why do you care? If people want to commit adultery, they will. No matter how you try to hinder them. Which is true. After all its their lives so why do you intrude and interfere? Anyway there are other social media that can be used for the same purpose. So goes the reactions to recent government refusal for Ashley Madison to make its bed in Singapore. Ashley Madison prides itself in having facilitated many an adulterous liaison. It describes itself as an "online personals and dating destination for casual encounters, married dating, discreet encounters and extramarital affairs". One of its taglines goes: If cheating on your taxes is okay, so is Ashley Madison.
Family is basic unit of society
I support the government in its stand against Ashley Madison developing a Singapore based website. Simply because I am pro-family. The family is the basic unit of society and society is as strong, sound and stable as the basic unit that comprises it. Family breakups weakens and undermines the fabric of society. If adultery becomes a socially acceptable behavior, even a cultural norm, it will weaken the family and in the long run, society will feel corrosive effects.
Saying No is good
Allowing it to operate is explicitly approving and encouraging the kind of behavior it promotes. Its true that Facebook can be used for the same purpose. However, married dating and facilitating extramarital affairs is not its primary purpose. It is its abuse. For Ashley Madison, they are the websites primary purpose. In one generation, it will become acceptable behavior and embedded as a  cultural norm. It is good that the government has decided to say a clear explicit No to such a family-corrosive lifestyle. Sadly, we have allowed casinos and gambling. The gambling demon can wreak havoc on the marital relationship and family. It too should have been banned from our shores. However, pragmatism has won the day and today we have increased numbers in need of credit counselling and bans and loan shark problems. But let me not digress. For the sake of family I prefer to unlike Ashley Madison.