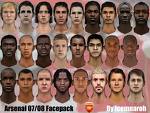 My prediction has gone awry. In August my prediction of the English Premier League 09/10 was: first, Chelsea; second, Liverpool; third, Manchester United; and fourth, Arsenal.
My prediction of champions still look formidable: physically, technically, tactically and as a team. Best in Europe right now: Chelsea.
Liverpool has surprisingly unravelled quicker than expected. Who would have known that besides losing Alonso to Real Madrid, poor Liverpool would be hit with a double whammy of  losses to injury of their twin terrors- Torres and Gerrard?
Manchester United, as usual, grinded out results despite their mediocre football. Mediocre compared to the last two glorious years, when Ronaldo and Tevez were around. They have too many injured. Too many pensioners. Giggs and Scholes will start creaking and make costly mistakes. Other teams, even the likes of Stoke, will fancy their chances of defeating a weakened Manchester United. The despair of teams when facing Man Utd has gone.
Arsenal is currently in second place with one game to play. I watch their goals on footytube and read of their exploits with glee. They have iron, thanks to Song and Diaby. My hope is that when Chelsea's Essien and Drogba go play for their countries in January 2010, Arsenal will overtake them and not lose the lead until the end of this age.
I want to be wrong about my prediction. Let Arsenal top the table from January onwards.
How do you think the season will pan out?