The following data of churches with annual income of over $10 million comes from the internet but was first communicated by the Commissioner of Charities (Sep 2008). I have always wondered which were the richest churches in Singapore. Now we can all have a peek and know, in order of funds collected, who they are:
NUMBER 1: NEW CREATION CHURCH

Location: Worships at the Rock Auditorium in Suntec City Mall.
History: Founded in 1984 by a small group of young believers who wanted an independent, non-denominational church. From 25 members, the congregation has grown to 16,000 now.
Led by: Senior Pastor Joseph Prince, a Singaporean in his 40s.
Income: $42.8 million for its financial year ended this March.
Income source: Tithes and offerings, sales of goods, income from interest
Business arm: Rock Productions has invested about $280 million in a tie-up with property giant CapitaLand to develop a $660 million lifestyle hub in Buona Vista. In 2001, Rock Productions bought Marine Cove, a cluster of food and beverage outlets in East Coast Park, for about $10 million.
NUMBER 2: CITY HARVEST CHURCH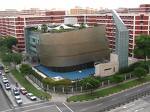 Location: Holds worship services at S'pore Expo and Jurong West Street 91.
History: Founded in 1989 by Reverend Kong Hee.
Led by: Reverend Kong, 43, is married to pop singer Ho Yeow Sun.
Congregation size: About 23,000
Income: $30.9 million last year.
Income source: Tithes and offerings from church members.
NUMBER 3: FAITH COMMUNITY BAPTIST CHURCH

Location: Holds its services at the Singapore Expo and Marine Parade Central.
History: Founded in 1986 by Pastor Lawrence Khong.
Led by: Senior Pastor Khong, who was awarded the Public Service medal at the National Day Awards in 1998.
Member strength: Close to 10,000.
Income: $27 million last year.
Income source: Tithes and offerings.
NUMBER 4: TRINITY CHRISTIAN CENTER

Location: Adam Road and Paya Lebar Road.
History: Founded by American missionaries Reverend Glen Stafford and his wife in 1969 with 10 people.
The church now has a congregation of about 5,500.
Led by: Reverend Dominic Yeo, 46, who chairs the centre's eight-member board.
Income: $14.2 million last year.
Income source: Tithes and offerings by congregation.
Some observations
As I look in a cursory manner at these figures all kinds of observations and questions come to mind. Firstly, where are the Roman Catholic churches? Which is the richest church in Singapore? It has to be the Roman Catholics when it comes to assets. The properties, especially the land they own is estimated to be worth S$18 billion. Just think of the churches you know, and the location of the property and you will believe they are together worth billions.
Secondly, New Creation Church raised more funds than City Harvest Church even though the latter is bigger by 7,000 in attendance. My surmise is that this is probably due to the fact that NCC is now in the midst of a mega building project, and God's people are willing to give to a specific desirable purpose. They have many businessmen and I think they are tired of queueing up! However, news of an impending fund-raising for a new church facility in the central south of Singapore will mean CHC will be raising the hundfreds of millions, in the next quarter.
Thirdly, what happened to the Methodist Churches -also reputed to be rich? The Wesley Methodist is much vaunted to be the dwelling place of the rich and famous. Their giving should pass the $10 million annual income category but it was not so. Some say Barker Road Methodist Church has overtaken Wesley in this respect, but I think they have more luminaries than treasury.
Fourthly, the image of the "working class" Pentecostal has been broken, by the inclusion into this category, of the highly organized Trinity Christian Centre, an Assemblies of God church, an attractive magnet for the Pentecostal who has surpassed his parent's roots in the working class. One other reason is also they are still rasing funds for the new church campus in Paya Lebar.
Its been a year and a half since the report was published and I do not think things have changed much.