Yangon assaulted me in broad daylight. The dry heat and dust of March just punched me up. I felt uncomfortable, sweaty, uncooperative and ever-eager to get back to that pocket of civilization called hotel.
"I am not cut out to be a missionary," I told pastor Thomas. I know His grace is sufficient for all situations but it is packaged with the specific calling.
It was four days of meetings with pastors and workers we have supported in the past and present. We heard from our local mission partners of the progress and challenges of their work. We saw what progress was made and refreshed them with encouragement and resources.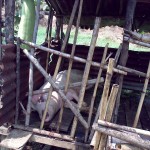 How do you help poor people and instill the "can do" dignity in them? We have bought piglets for families. After 9 months the families can sell the grown pigs for a profit, a part of which is kept to buy another piglet, and the remainder used for education or other needs.
We explored the idea of alleviating the poverty of the ordinary, long-suffering Myanmese via micro-loans.
The schedule was not as punishing as previous trips I have made. The commutes in dirty bone-shaker cabs and trucks, with hot dusty air and sunshine beating on me sapped my energy.
The churches we visited were only an hour or more away but our butts were shaken sore and our faces were layered with dirt. Thank God the buses were required to use CNG as fuel or the pollution in our lungs would be as bad as China's cities.
I came home on Monday night more drained than I had expected.