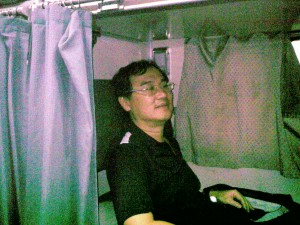 Night train for a change
Normally, I would take a coach to the Cameron Highlands. For a change, and at Kim Eng's suggestion, my wife and I  booked online the sleeper "malam" train of the KTM (Malaysian railway). The last time I took it, I was going to the same place: Gua Musang in the southern part of Kelantan. I boarded at about 6:50pm and settled into a lower bunk bed. Each bunk had a window view, and was curtained for privacy. I forgot to bring something to secure my luggage to the rail, so I put my bag in my bunk bed. I could sleep and woke up when my phone alarm rang at dawn, and later the trainmaster informed us that we were at the Gua Musang train stop.
Gua Musang welcome
The Chuas, who were members of wrpf, met me with a warm smile and welcome, took our bags and drove us to their home in the midst of  a smallholding oil palm plantation. The trees were a geriatric 30 years old but they were still yielding fruit and oil. They couldn't replant new ones because of the lease contract terms. Nevertheless the Lord has been blessing them with better palm oil prices in recent years, and they are, more importantly playing a strategic spiritual role in that town. We had aromatic espresso, chatted and rested an hour before we left in his car on a pleasant 2 hours journey to the Cameron Highlands. It was good to escape the heat of the city. The air was markedly fresh as the small car climbed up.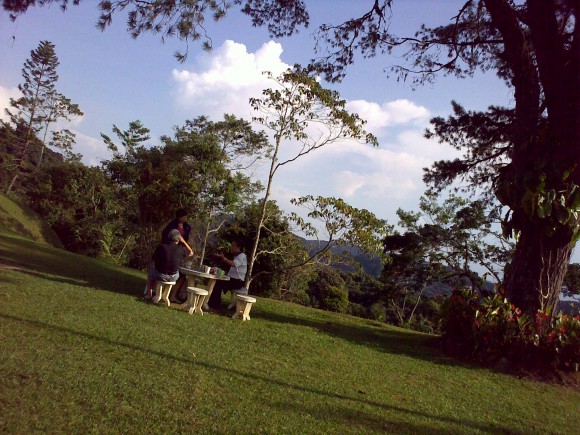 We arrived just after James Tan Ah Lek and his wife, another Kim Eng. they had taken a day train from Singapore to Ipoh, a good 8 hours, and a 1 hour plus bus ride to Cameron. We smelled muffins, and we had tea and warmed up as a group with our faith sharing.  We ate the fresh corn raw and they were delighfully sweet. It was a good start. All the other guests were OMF missionaries from Germany and Switzerland, working in Thailand. We got to know a few of them better. After dinner, we slept in.
Concerning faithful dogs
In the morning, I walked by an old dog with fur so thin I could see its red wrinkled skin. I remembered how this dog used to be a favorite: energetic, with lively eyes and thick brown fur. It had served well as fun dog by day and watch dog at night. Now it laid around without fear of the new caretakers. In human years, it was about 80 or 90 years old. The grounds however sparkled with the barks and leaps and frolics of a young Corgi, the new kid in the block. Seemed like succession was in progress.
Message from above
I hardly noticed the roses. During the four days and three nights stay, I was most aware of the stars that greeted us from clear night skies. The sounds, especially the sounds of birds, filled my mind and took up space, as I sat in stillness in an easy rattan armchair, out in the open, overlooking a beautiful valley. Violating the green expanse was an ugly swath of exposed brown earth. Cameron's development has increased, and I hated that. One early morn, between sleep and alive, the Lord whispered his message of comfort to me: the birds. I knew what He meant, so I went back to the beloved's privilege: more sleep.
All of us met up with Ezekiel and Aurora, a Malaysian Indian and his Hong Kong wife. We were charmed by the story of how they met, fell in love, got married and came out to Kelantan to serve. There is something about interracial, transnational marriages that is romantic. Maybe its because its riddled with obstacles, and that makes for tension and a lively story. So we ate at the Kowloon, and thought that the nine month bride would find some comfort in the name of the restaurant: the Father's loving attention to details.
Towgay in Ipoh
Later that afternoon we boarded a bus and headed for Ipoh where we stayed a night at the Syuen hotel. Dinner was hawker fare: Uncle Lau Wong's famous plump towgay (beansprout) and steamed white chicken with Ipoh kway teow. Since these dishes were legendary I was not about to disagree with everyone, and spilled out my obligatory, shiok, wah, umm, and cheap. I must admit the towgays were plump and succulent.  No more photos to show as I forgot my recharger. I liked Ipoh in the morning, where the tim sum culture seemed to be very much alive. I liked the beautiful limestone hills and mountains surrounding it. There's a kind of enchantment, an alluring feel that invited you to sell all that you have to retire there.
Later, we travelled first class in the KTM to Kuala Lumpur. First class meant more space, less passengers, and bigger seats, three to a row. I liked it, though as a spoilt Singaporean, I thought: why don't they re-upholster the faded seats. Well the reply came quickly, It is so that you can say Cheap, cheap, cheap when you travel by train in Malaysia. Stop being arrogant, you Singaporean!
Misadventure in KL
Nobody told us it would be difficult to walk in and get a hotel room over the weekend at KL Sentral. In fact, our Malaysian friends recommended the Hotel Sentral, My Hotel, and the YMCA – but they were all full. There was no room in the inn. We finally opted for the only room in that area: a tiny widowless bare hotel room for 78 ringgit, and please clear out tomorrow at 12. The bemusing name: Hotel Florida. The Meridien and the Hilton were nearby but room rates were as high as their twin towers.
We spent the rest of the day at the Mid Valley shopping mall, something a colleague kept raving about. Yep, it was a comfort to get out and stay out of the dingy room with no carpets, a snowy TV screen, and broken ventilators on the air conditioner. Midvalley felt like the crowded Singapore mall. We ended up with a late nonya lunch in a basement cafe. We ravished the several items we bought. We decided to shorten the holiday in KL and aborted our dinner with Aileen and Christine Tan on Sunday night. We bought our bus tickets at Bukit Jalil from the makeshift bus hub relocated from Puduraya. Now we don't have to worry about tickets on Sunday. Little did we know, on the next day, a Sunday, we would be hit by a common KL plague.
Yes you guessed right. We had street market congee and ching cheong fun for breakfast and early Japanese lunch at Midvalley mall. We still had time. Murphy's Law took over and we were pushed to the edge. Trusting God at the edge of a cliff can be nervewracking. At KL Sentral we waited just 10 minutes; others had already waited for 40 minutes! At Bandar Tasik Selantan, we waited another 30 minutes. We were still waiting at 1 pm, the time our coach would leave. At first we panic-prayed the Rapid KL would really be on time if not rapid; then we  panic-prayed that the Transnational coach would be inefficient and delay its departure. Neither happened. We missed the coach. Took the next available and comfortable Konsortium coach. Verdict: misadventure. Tuition fees in Malaysian ringgit. Lesson learnt: give ample safety margin for train delays.
Somehow God works all things for the good of those who love Him. In this last leg, we got to know a Catholic by the name of Joo Hock who just returned from a trek in the Camerons and we  exchanged contacts. Perhaps on the cards is a trek to Gunung Brinchang.