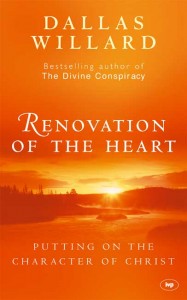 Vision of spiritual formation
The author wants the church to hold to a vision of spiritual formation of all believers into the likeness of Jesus Christ. This is rooted in the Great Commission, and the church that fails to do this simply has failed. Dallas Willard is a professor of Philosophy in U.S.C. and a widely read author. His writing is cogent, and patiently builds up air-tight arguments to prove his thesis. His extensive reading and research is evidenced in his references. But his background also explains why his definitions of various elements of the human, like soul, spirit, and heart betray a lack of biblical theology.
Dallas begins by painting a grim picture of the gap between what is professed and what is lived out by the church. Many have severely fallen short of the standard of Christ's holy life. He then pinpoints the church's problem: majoring on the minors. The cure: a fresh, intentional focus on spiritual formation. A vision of change and hope is outlined and then in detail he goes on to show how every element of the human person can be transformed. The thought life and the feelings; the will and the body; the social and soul, all need to come under the transforming work of Spirit and man's intentional and habitual response.
Biblical theology gap
The definitions and explanations and practical applications about what Christians can do to predispose themselves to God's grace in transformation are clear and the arguments almost airtight. However I would have been more convinced if he had brought in more biblical theology with word studies, of biblical terms like the heart, or spirit and soul. It sounded more psychological than biblical. Perhaps in targeting the lay Christian reader, he has deliberately avoided technical discussion on such matters, but I wished that at least it could have been included in an appendix.
He could have filled a gap in terms of biblical theology of how Christ's finished work, our union with Christ, the sacraments, and sanctification relates to spiritual formation. Perhaps he was overeager to avoid theological jargon but we readers would like to be able to relate what we read in his book to the epistles of St Paul in Romans 6-8 and other great passages. For example, he made some insightful observations about how "ideas, sensations and emotions", both positive and negative, can by habit become "settled attitudes" that become like tendencies that can trigger automatically without conscious thought in reaction to life situations. It would have been wonderful if he discussed that in relation to the "old man" or "the flesh" or "body of sin" or " indwelling sin".
Community applications needed
His suggestions were practical. For instance, memorization and meditation of the Scriptures to renovate the mind so that it comes fully under Christ's rule. However, it is noticeable that most of his applications were directed to the individual Christian. There were a few directed to the community and leaders of the community in the social dimension but it would have been better if all the application were viewed from a community and relational viewpoint. Thus the applications for mind renewal could have been the reading and preaching of Scriptures in the worship service, the role of hymns, the family's role in encouraging thinking from God's viewpoint, the study and discussion and application of truth to life in small groups etc. Frankly, most individual Christians will not memorize scriptures or study over the long haul. The only hope of such actions becoming habits must be for a community practice to be established and for them to participate in them faithfully.
An Asian way?
The approach of breaking down all the human elements that need transformation is also a very Western and scientific approach. It helps me to understand each particular part and how it functions together and deepens my understanding, but it also overwhelms the individual with too much applications, and it feels quite cumbersome. It may be better if he had taken a more Asian or holistic and biblical approach and viewed the human being as a whole and demonstrated how Christ's death and resurrection has provided a basis for the renewal of my whole being and how the church needs to provide a conducive context where all its members can better predispose themselves to the ongoing grace of sanctification.