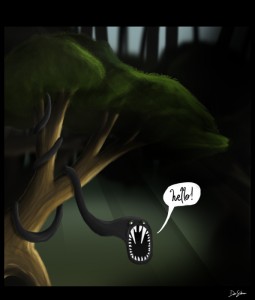 I met a talking snake as I trekked the Bukit Timah Hill.
With shaking head and cold eyes, the snake hissed:  Aren't you surprised?
No, why should I be? I am a pastor and the Bible has stories of a talking snake and a talking donkey.  It has a rod that turned into a snake, and a virgin that gave birth to a child. Why would I be surprised?
Snake:  But a talking snake is totally contrary to normal human experience. It is just totally unscientific and irrational. Doesn't that bother you?
Pastor: Frankly it does unsettle me at times that there is a talking snake in the Bible. I mean, I've seen snakes in Penang, and in the Singapore zoo, and on TV but never a talking snake. However, this dissonance has never derailed my faith in Christ.
Snake: You should explore that dissonance and it should cause you to weigh the facts and throw the Bible with all its superstitions, scientific inaccuracies, and myths out of your life. Snakes don't talk and trees don't impart knowledge.
Pastor: Animals have been shown to be able to communicate among themselves. Some humans demonstrate an uncanny ability to communicate with animals, albeit at an elemental level.  Why then can't you conceive that in a pre-Fall world, there could have been an amazing harmony and an incredibly higher level of communications among God's creatures than is seen now. Though inconceivable now because of the Fall, couldn't it have been different then?
Snake: Ridiculous! Utter nonsense. Sheer speculation.
Pastor: Well, it's just a thought.  Perhaps you should be more open to seemingly impossible possibilities. After all, creation keeps us on tiptoe with strange and magical surprises in nature and in the invisible realm. That snake probably never talked again after tempting Eve. I have seen cases of evil spirits temporarily talking through its victims in a different voice and personality. You must be mocking me now!
Snake: Are you one of those Pentecostal snake-handlers or tongue-speaking charismatics who believe in all things supernatural?
Pastor: No I am not. However, I am a Pentecostal with a deep respect for snakes ….. and snake-handlers, and I do speak in tongues, certainly more than you. Yes the world of the supernatural and spiritual phenomena does not scare me. I view all these things that I do not fully understand with my finite mind, with a sense of hush and awe (and some wariness), as Moses did with the burning bush and Joseph with his dreams of angels.
Snake: You believe in all the miracles of the Bible.
Pastor: Of course, I do. Not just because I am a Pentecostal and brought up as one soaked in a tradition of belief in the supernatural gifts and in miracles, but also because the Bible speaks of these miracles and angels in a matter of fact way.  Call me naive if you will but I have heard so many modern day miracle stories myself and despite my natural tendency to doubt, I have become a believer.
Snake: Have you considered that the whole story of Adam and Eve, the talking snake and the tree that delivers knowledge is all a myth meant to teach religious truths about God? It's just a literary device to teach readers that God is the creator, and he made humans to be like him and to be the top of the chain, and something wrong happened to cause the world to be as messed us as it is today.
Pastor: Well do you believe in the truths that the literary device seek to proclaim? Do you believe in God's goodness and affirm that creation was good but evil came into the world and messed it all up? Do you believe that Jesus came to die and rise again to clear up the mess? If you do, you are closer to heaven than you may dare to think!  Have you heard of the 4 spiritual laws?
Snake: Don't patronize me with your fixed formula of converting me. It won't work. You should take a closer look at your faith – it has no substance, no factual base, insufficient evidence.
Pastor: Pardon me.  I don't mean to be patronizing. My faith is based on the person of Jesus Christ. He lived in the Roman-occupied first century Israel. He was a carpenter-construction worker and a man whose birth, life, ministry was marked by the amazing, truth, miracles, love and remarkable perfection. He died and rose again from the dead and ascended to heaven. All these things were seen and witnessed by men close to him. My faith is based on the testimony of these witnesses. In addition, I have experienced his forgiveness and peace myself. I have a wonderful inner assurance that all this is real and true and somehow all the scientific and rational dissonance that bothers and troubles many others does not affect me at all. It just does not ruffle my faith at all. By the way, have you heard of Jesus?
The snake, weary from trying to convince me of the unreliability of the Bible, slithered away, hissing in frustration at this poor blinded Pentecostal pastor. The talking snake had to admit though, that it envied the fact that I seemed so persuaded and assured in my faith, and looked so happy for one so steeped in irrational beliefs and superstition.
The talking snake was almost persuaded to be a Christian.