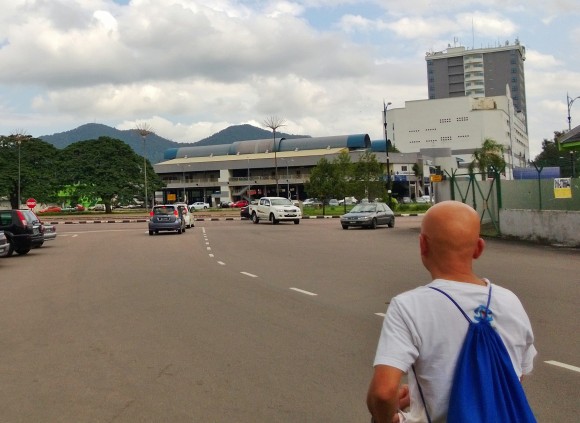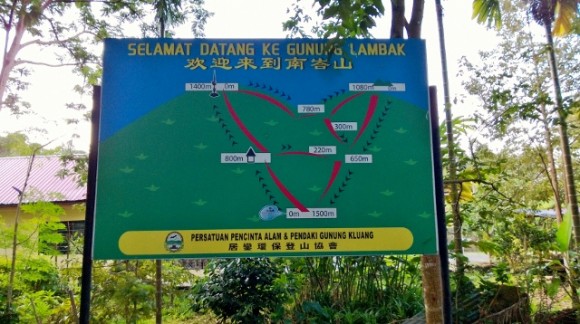 My trekking friends had planned this as training preparation for the Mt. Rinjani climb in end of April. Since they were in Kluang, Johor state, they also hoped to do some Chinese New Year shopping and take advantage of the weaker ringgit.
There were 16 of us. Some arrived in cars, others on the KTM train. It was Friday late morning and we checked into the hotel and had our usual lunch at the nearby popular Star Restaurant. We enjoyed their specialties at a price that heightened the pleasure. The rest of the day, we shopped, caught movies, had the hair done, ate and bought snacks and isotonic drinks for the next morning's trek.
Some of us had to hitch a cab while others went in their cars. Gunung Lambak was a mere 15 minute drive away. It was a Saturday morning and there were many locals around and some stalls selling fruits and drinks. The elevation is only 510m or 1673 feet which is about three times the height of the highest hill in Singapore – Bukit Timah Hill. We estimated a four or five hours trek. The initial path was bitumen and cement and reminded me so much of the main path of Bt Timah hill. The latter three quarters to the first peak were slopes at inclines of 40-70 degrees with occasional ropes, steps and tree trunks for support. There were no flat plateaus, no break from the monotonous and challenging slopes.Going down was thankfully a different gentler route.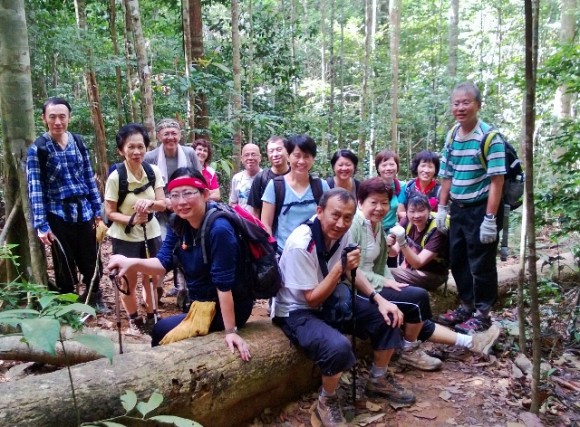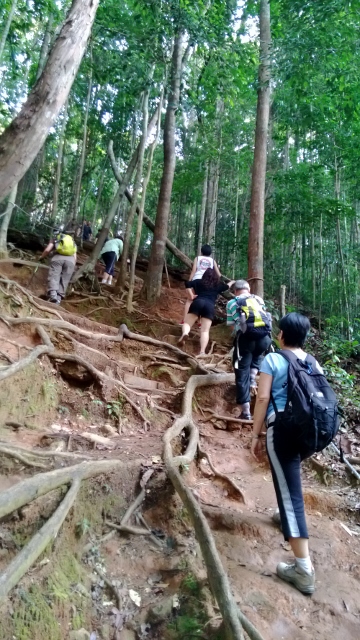 My wife was nursing strained thighs and that slowed us down. Vincent, Jeffrey and Goh were the rear-guard and having them around was a comfort. Before we felt tired, we reached the first peak. We rested a while, had our snacks and went on to the second peak. Along the way, Goh twisted his ankle. A few of us decided to head down. The others went on to the second peak. They later realized they were on the wrong path, and tracked back to the fork and took the correct turn, delaying their return to town by about 45 minutes. By which time the five of us who went down earlier had returned to town, and ate delicious char kway teow in three forms– the traditional kway teow, and one fried in wanton noodles, and another in mee sua. We washed all that down with yong tau hoo soup. After a relaxing bath and rest we later re-united with the rest of the trekkers for the famous beef noodles of Kluang. The way we ate you would have wondered whether we came to prepare for April's Indonesian climb, or simply to stretch our gastronomic muscles. On both nights, we went to two different hawker centers and ordered almost every available dish for sharing and tasting. Burp. These Malaysian hawkers are simply better than their Singapore counterparts.
It was disappointing that we could not buy much pineapple tarts, love letters or other CNY goodies due to quality issues and lack of variety. However many had their massages, hair treatment, pedicure and manicure and we had a good stretch of our muscles, both legs and gastronomic. And all this without blowing a hole in our pockets. It was fun.