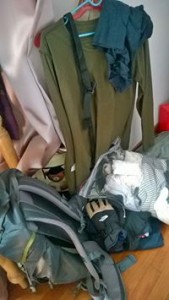 I am still packing. Packing is always a chore that has to be done. A list of items. Searching for some rarely used items in the storage. Buying some stuff. Organizing which goes into the bag that the porters will carry and which goes into the bag in the hotel and which goes into the bag you are carrying. From miners torch, to woolen gloves, to camera and energy bars – you want to be sure everything you need will be inside.
Tomorrow at dawn the MaxiCab will take me and four others to the Changi Airport Terminal 2. From there we fly to the island of Lombok, east of island of Bali, in Indonesia. There is a challenging climb up the volcano called Gunung Rinjani (literally mount princess). I will get to admire my Father's world. Marred by sin, His world is still beautiful and wonderful and awesome. Imagine the new earth and the new heavens!
As usual the ascent of the peak is a challenge. And so is the overnight camping in tents for three nights. However when I look at some of the photos and videos of the crater lake and the volcano, the pleasure and delight ahead outweigh the hardship of weeks of training, and of the trek itself.
So here I go for a whole week. I hide under the shadow of the Almighty – and that is a very big shadow, like a huge mother ship in the sky, watching and backing us up. Praise God.