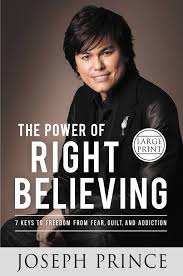 PART 6: HAVE A CONFIDENT EXPECTATION OF GOOD
The central idea in this part is all about having hope: a confident expectation of good from God because He is gracious. It's about what is hope, why it is important, how to have it, and bible examples of this truth in action.
CHAPTER 16: THE BATTLE BELONGS TO THE LORD
Joseph Prince used the famous battle that Jehoshaphat fought against enemies that formed an unholy alliance against God's people (2 Chronicles 20). It demonstrated how hope comes, and how it works magic in impossible situations that God's people finds themselves in. Inspiring chapter.
CHAPTER 17: GOD LOVES IT WHEN YOU ASK BIG
The story of Jabez's prayer and God's answer to him (1 Chronicles 4:9) was the basis of encouraging us to unashamedly ask big when we approach God in prayer. He tells the inspiring story of Olivia Lum, the entrepreneur who founded Hyflux, Singapore's first water management company to be listed in the SGX.
CHAPTER 18: FINDING HOPE WHEN ALL SEEMS HOPELESS
Joseph Prince reminds us of the thesis of this book. There is power in right believing. And the secret to right believing is right listening. He demonstrates this principle by showing how listening to the stories of Jesus healing power raised the faith of the woman who had been bleeding for 12 years (Mark 5).
Well, I am surprised that I have actually come to this point. This is the second last part of the book. Most books remain unfinished on my book shelf. I am easily distracted when it comes to ideas. I move from one idea and interest to another quickly. You could say it was my earlier pledge to readers that has brought me to this point. Now I can see the finish line.
The insights in these chapters does not grab you like gems in the earlier chapters. But the stories are inspiring. I love the Olivia Lum story. Wonderful stuff. This part is an easy lap. It energises, it inspires. It is not rocket science. Hope is strengthened when we keep our eyes on Jesus and his love for us. God wants to bless us and we can have a confident expectation of good because of His unchanging love.