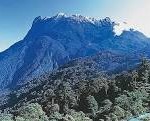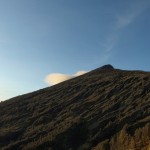 At the end of our trek, we compared the level of difficulty of the Rinjani trek with the many Kinabalu treks we have done. Most of the trekkers have done Kinabalu a few times. It was unanimously agreed by all who have done both, that the Rinjani trek was tougher. I had talked about this with trekkers – people I do not know – I had met in Bukit Timah and most of them tell me Rinjani was tougher. When these fellow hikers in Bukit Timah mentioned the comparative difficulty I found it hard to believe because Mt Kinabalu is higher than Mt Rinjani. However, now that I have done Rinjani and am in a better position to compare, I have to agree with all the other people's opinions.
Perhaps one factor that weakens my opinion is that I climbed Kinabalu about 5 years ago. Memory of the hardship and challenge has faded. However, my friends have climbed Kinabalu recently and their opinions are that Rinjani is tougher.
My friends and I are easy trekkers. We are kiasu, kiasi, and kia bo. These friends have done several treks in Nepal like Poon Hill, Annapura Base Camp, Thorong la Pass and other Everest treks. They have done Mt Fuji in Japan, Mt Agung in Bali, and a tough Trans Gopeng Cameron trek. When compared all other treks with Rinjani – everyone said this was tougher.
The comparison between Rinjani and Kinabalu will look like this in a table of comparison:
Aspects

Mt Rinjani

Mt Kinabalu

Height

3726 m

4096 m

Difficulty level of first leg

2.5 out of 4

3 out of 4

Ascent

3.8 out of 4

3.5 out of 4

Nature of challenge

-Loose gravel that sinks as you step forward.

-Sleep overnight in tents and inconvenience.

-Possible altitude sickness and thin air.

-Sleep overnight in relative comfort.

Return leg

3 out of 4

2.5 out of 4
For further reading:
http://www.blogpastor.net/2014/05/rijani-trek-spectacular-views-frustrating-ascent/