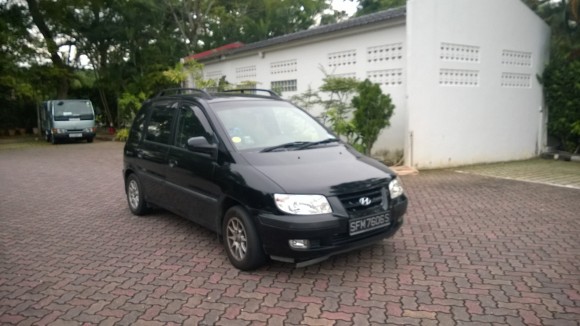 Dust to dust, ashes to ashes, metal to scrap. The Hyundai Matrix that was bought by the church and that has served so faithfully has used up its entitlement to be on the road. It has been ten years. It is durable and roadworthy. But this is Singapore – a cemetery for 10 year old vehicles. It's such a sad under-utilization of resources. Some of the cars will be re-exported to other Third World countries to be re-conditioned and used for perhaps another 20 years. The rest will end up as scrap metal. Very few will continue on Singapore's roads. Today I said Goodbye to my Matrix.
Singapore is probably the most expensive place in the world to own and use a car. If you buy a new Toyota Vios at today's prices, live in Jurong and work in Changi, include all expenses such as repairs, servicing, insurance and road tax, minus inflation, you would have spent about S$200,000 by the end of ten years. This was what I read somewhere.
It is strange but though the car is not a living creature we develop some kind of feeling towards it. The feeling could be positive or negative or both. For me it is all positive. It is respect. The car looks petite but this lady has a big inside that can even squeeze four in the back seats. The luggage space can handle four persons luggage.  It is gratitude. This car has done its bit for the Lord, and for my family too. It is fondness too. After so many years, I have grown to like it. Maybe I am not fussy. Nor have I driven many cars in my life to provide any kind of comparison. I only drove passenger church vans before this car: a Toyota Hiace van and a Isuzu van, before this blessing from the church came into service. She is a petroholic, but I am still fond of her.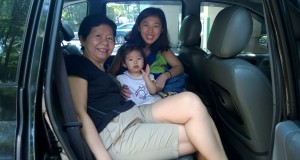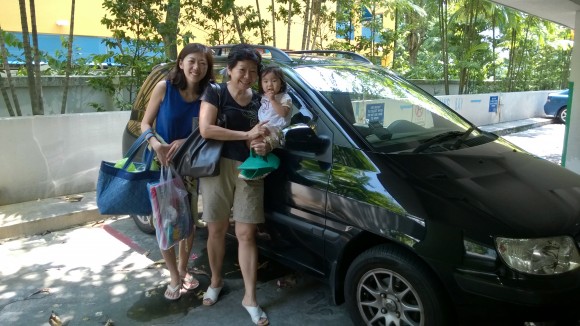 Now it has become too expensive for the church to provide a car. I am very thankful to the church that I had one for so many years. The church has been good. The Lord gives, the Lord takes away, blessed be the name of the Lord.
Even my children said, Take some photos before it goes. The family got sentimental with the car. So before it went we took some shots after lunch. I want to remember its spaciousness, its usefulness and faithfulness.
Well done thou good and faithful servant. Dust to dust, ashes to ashes, metal to scrap.
Now I will undergo some major adjustment. I am converting to a BMW (B for bus; M for MRT; and W for walk). Add on a double turbo (T for taxi and T for tompang). First heard this BMW thingy from Benny Ong a popular church speaker. Stuck with me. This will be a challenging and interesting change. Like the Minister of Transport once did, I will take the MRT. But unlike him, I cannot do anything to improve it. I can only adjust and live with it. Let the hardship begin. It cannot be as bad as what others suffer in other countries.