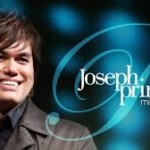 This may be hard for people to receive.
Why can't a pastor earn millions of dollars?
If a Christian layperson is allowed to earn millions of dollars, why can't his pastor? Is there one standard for Christians and another for pastors? Don't we all follow the same Lord? We haven't even got rid of the clergy-laity divide, and the sacred-secular divide shows itself.
Anyway the online articles have not furnished evidence that he really earned $500,000 annually and has net worth of $5 million. In fact the article was not backed by adequate or updated data. Quoting an online post that is sensational and is trying to get more hits, is not a good way to look for facts but this is what today's online journalism gives us.
In fact the New Creation Church leadership council has reiterated what most Singaporean Christians already know. Joseph Prince has stopped receiving a salary from the church since 2009.
What is to stop a rich attendee from donating $100,000 dollars to Joseph Prince on any given day?
Why can't Prince benefit from the royalties of his preaching and writing?
Who is to say he has not generously and secretly been giving large sums of money to the poor?
There are pastors who are bi-vocational and very rich.
There are pastors who inherited vast sums.
Or pastors whose wives bring home the millions?
What if a pastor bought a few Apple stocks decades ago and is now a very rich man?
Why do these pastors seem more acceptable than the pastor who earned them by preaching or writing?
By the way, Billy Graham is not a pastor. And neither is Benny Hinn. They are evangelists.
Maybe now more parents will encourage their children to be a megachurch pastor – adding this profession to the list of common ones.
What is your opinion?