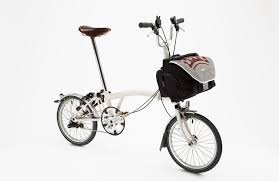 The Brompton evangelist
The Brompton is a folding bike with a cult following. Those who have ridden it usually became Brompton evangelists. They are unashamed to give testimony to its build, versatility, usefulness, comfort, head turning looks, and portability. It's the BMW of folding bikes.
So it was with enthusiasm that a pastor friend "shared" with me his "testimony" and I was "almost persuaded", like King Agrippa, as he listened to Paul the apostle. That conversation seeded me with a desire that germinated. I found myself googling about Brompton and watching YouTube videos about it. This expanded to searches about competing cheaper foldable bikes like Dahon, the largest manufacturer of folding bikes in the world.
The catch was the price. It costs $2,800 to get a Brompton bike in Singapore. It's higher than in England or South Korea. For bike enthusiasts and serious road cyclists this price is nothing. Some bikes even go for $11,000. For a pastor like me, it is a shocking introduction to the world of biking. The Brompton bag attachment costs $200. To me you can buy a bicycle for that price at Giant Hypermarket. After all, the bike is a green machine with two wheels, brakes, a steering handle bar and a seat, that brings the rider from one place to another. Getting over the price was a hurdle.
Saved by a pastor
I was sharing this with another pastor friend who listened to me intently and at the end of the conversation made me an irresistible offer. Would you like to buy over my folding bicycle for $100? Its only 2 months old, and I bought it for about $500. That certainly shook me from my growing fixation on the Brompton bike. Let me try the bike over a few days, I said. So he passed the folded bike to me from the boot of his car and after a few days standing in my house I finally took it out for a test ride to the Jurong Lake cycling rim. It was a good exercise and pleasant to have the wind brushing against your face with the waters and trees all around. Like he said, the Cronus, Earl 2.0 squeaked a little when you lift up the handle bar too high. Other than that it was a so-so ride and I was happy there was suspension for the seat. The bicycle was purportedly French but I think it's just a marketing gimmick. It has made in China written all over. At the end of it, the decision was still easy to make. It was a generous offer I could not say No to. As Sherlock Holmes would often reply to clueless Dr Watson, It's entry-level, Watson, entry-level. Ha,ha.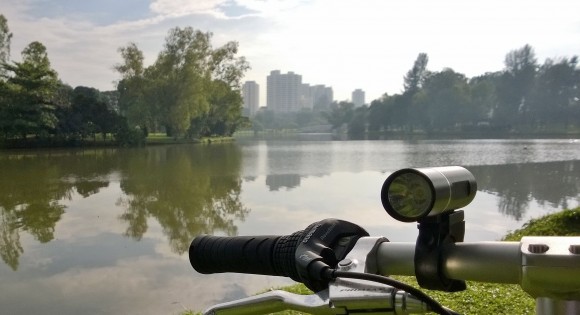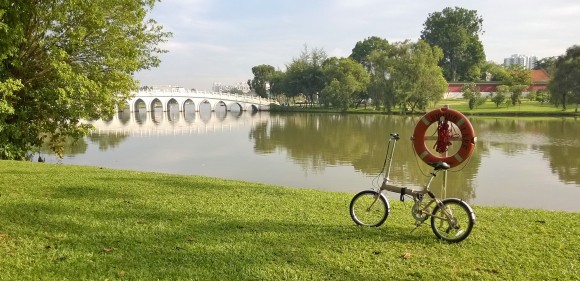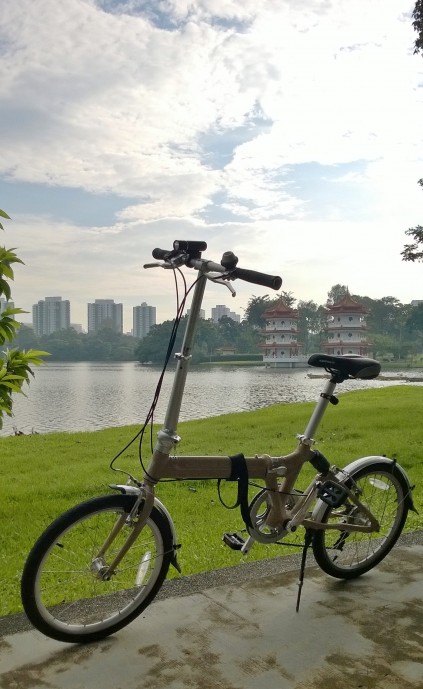 The Brompton is still on my mind of course. This is the way I figure it. $3,000 over ten years is $300 a year. And if you use it a hundred times a year, it would mean an average of $3 each time. Furthermore the pleasure of riding a piece of British engineering genius cannot be quantified. I can see from online searches that used Brompton bikes keep their value well.
So I am still tempted to buy a Brompton or a hybrid bike so that my wife and I can ride off together into the sunset, or sunrise haha, in a common leisure activity that is also low impact and good exercise. The ride to the end of Jurong Lake and back takes about 45 minutes. There are also many park connectors to explore. Since the Bukit Timah Hill has been closed this may be an addition to my currently depressing exercise regime.