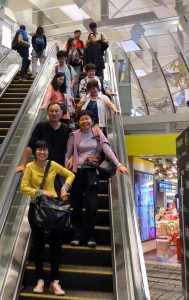 One of the most widely read blogpost in 2014 is How to go to Bukit Indah by bus. I did this post to keep a record of how I went to this place in Johor by bus in case I needed it again. This is after all a personal blog of someone who happens to be a pastor. As it turned out, many have googled about going to Bukit Indah and landed on my post.
We just had a photo sharing time with the Marine Parade cell with whom I went to Kyushu, Japan. It was a time of food and fellowship. We viewed and shared photos and videos. We remembered the funny and interesting moments and had many a good laugh. I heard and saw things that I never knew happened until I saw it on video or photo. It was fun.
There were so many photos and fond memories I want to keep – too much to write about in one blogpost. So I will do it in manageable bits and tie it up together once it's all completed. Who knows there may be people out there who are searching for interesting itineraries to explore Kyushu. This will certainly help them. Travelling by tour groups is convenient but it has its limitations. Travelling free and easy is hard work at the research and planning stage, but it later yields greater flexibility and enjoyment.
I have always wanted to visit Japan. That was why I requested to join this cell group in their Japan trip. It is called 'tompang' in Malay, or jumping the bandwagon. If you do not like tour groups and have no time to plan a free and easy, then 'tompang' is the best option. They were gracious to let me join in and I was happy to follow the leader Jasmine. My wife and I just went with the flow and it was blessed by the Lord and became a special trip for us both.