I have been in conversation with him about folding bikes. He owned a mountain bike before but wanted to get a foldie. He researched Brompton, Dahon, Vert, Jazz and other foldable bikes and went to the bicycle shops to examine. His conclusion is that the Ubike is the best value bike in Singapore at the moment.
Brompton and its long tradition was certainly an attractive option. However he is one who is not into brands and will look at comparisons with an objective eye. He finally bought a Ubike citizen selling at SGD$980 for one main reason: it gives him the best value for the buck.
For one thing he found the Taiwan manufacturer is a tried and tested maker of durable bikes for many cities in Europe. This is their foray into foldable bikes and they won an award for design. The parts are Shimano and can be easily upgraded or replaced, unlike the proprietary Brompton. It came with mud guards and a rear rack. It has over 20 gear shifts. It's frame is aluminium and when folded it can be pushed like a wheel barrow. Best of all you can actually buy 3 Ubikes for the price of one Brompton.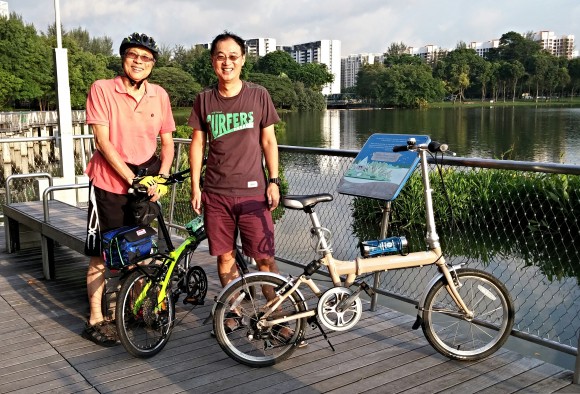 So when Sek Hong bought the bike I was eager to have a look and try it out. He came over from Holland Road and from my place in Jurong we cycled to the Jurong Lake Park Connector. I showed him the promenade, the fountain, passed by the entrances to the Chinese Garden and the Japanese Garden, and passed the view of the Jurong Country Club golf course.
At the end of the one way route, I tried out his bike. The bike aesthetics were good: paint, colour, the frame, the handlebars and tyres. The ride was smooth, effortless and quiet. There is no suspension but for recreational riding on the park connectors this does not pose a problem at all.
He was bowled over by the scenic and breezy ride. "I don't know why you bother to ride the Ulu Pandan PCN when you have such a pleasant ride here." "Yes there is no need to, but I do it for variety and to eat at Ghim Moh or Teban Gardens."