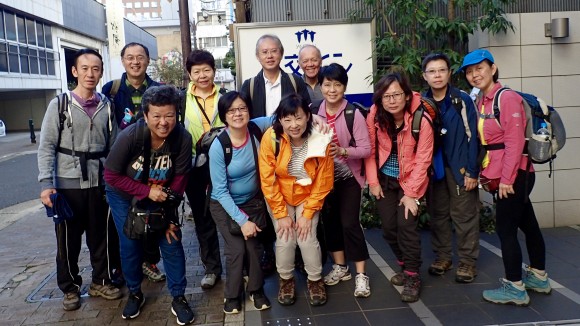 Thursday, 27th October. We began early. One hotel staff measured the sizes of the luggage (charges were by luggage size, not weight) that the takkyubin company would forward to the Ace Inn Hotel in Matsumoto. We would arrive at that hotel the day after our hike. We would only carry a fresh set of clothes for the next day's hike in our backpack. Cap, sunblock, camera, clothings and jacket, umbrella, torch, raincoat, phone and camera chargers, extra socks and underwear. Packing should be easy but the unknown factors made it a chore burdened by small decisions, "Should I bring this sweater or the fleece? Will I really need this penknife? What if ….?" We determined to travel light but somehow we packed too much stuff.
The journey was about two hours by train and then by bus to Magome. We saw older men and women in hiking gear, hat and backpacks in the train, in the bus, along the trail. During the vacation, we saw old people touring. Old people working outside their homes. Old people sauntering. Japanese people. Old people in the markets, the shopping mall, the streets, the restaurants. Old people making music. None were cleaners. Japan has aged quite well.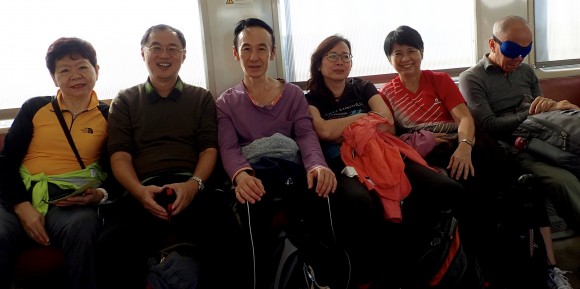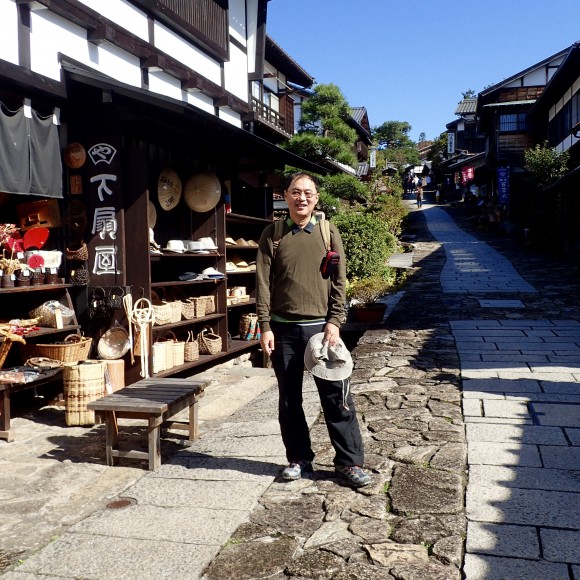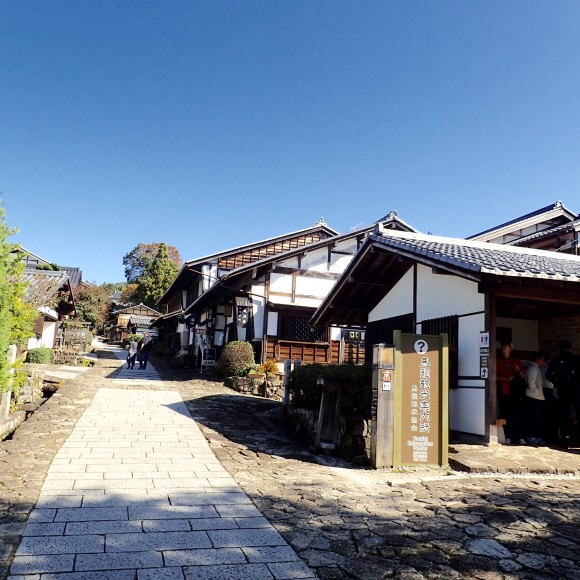 Magome is a picturesque post town that served the route between Tokyo and Kyoto during the Edo era. The quaint exterior of the houses and shops that lined the main street had an understated dignity of a grey haired elder. We had a leisurely walk up well-paved streets lined on both sides with souvenir shops, snack stalls, and old world feel. We snacked in the cool fresh mountain air. We one-two-three clicked clicked along the way. The sun was overhead and the harsh light played havoc on our photos. We were noisy. We looked the part. We had gotten into the carefree spirit of vacation. It was late morning and the hike had not begun until we reached the edge of tourism. Suddenly, our hike picked up energy to make up for lost time. As we plodded upward, we saw less shops but more homes of townsfolk spaced out along the trail.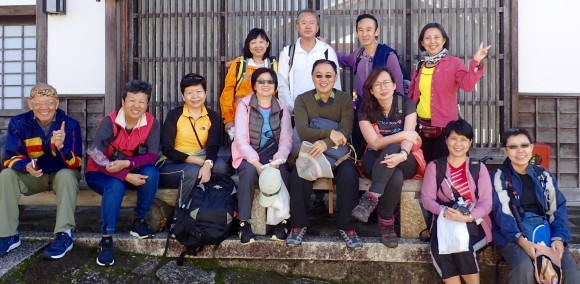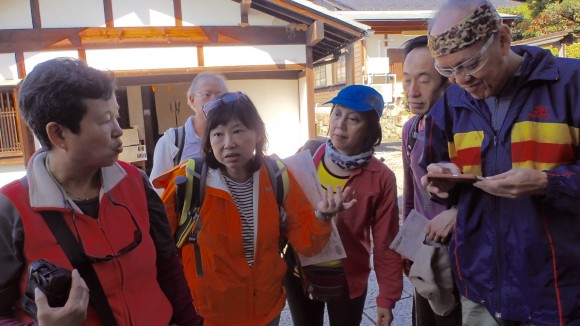 It was a walk in the park: eight kilometres with some slopes. About three over hours through the beautiful forest, with some autumn foliage, gurgling streams and crisp fresh air. We enjoyed the moderate hike for the sheer beauty of the scenery, the cool autumn air, the light workout it gave us, and the friendships it strengthened. As we walked along we found ourselves talking with different ones and updated on what went on in each other's life.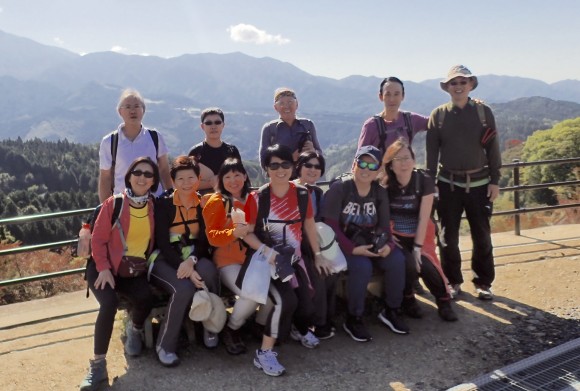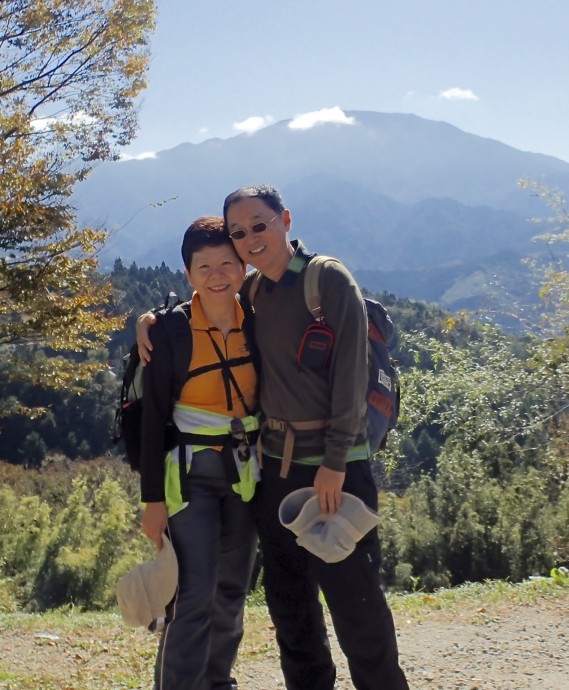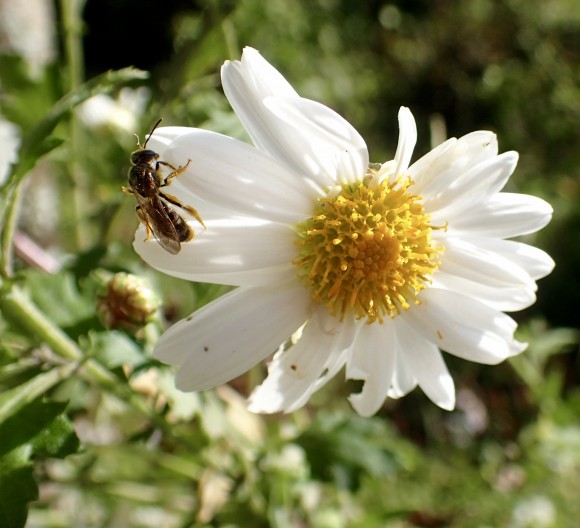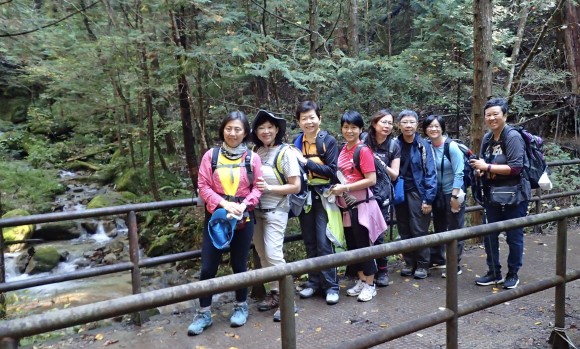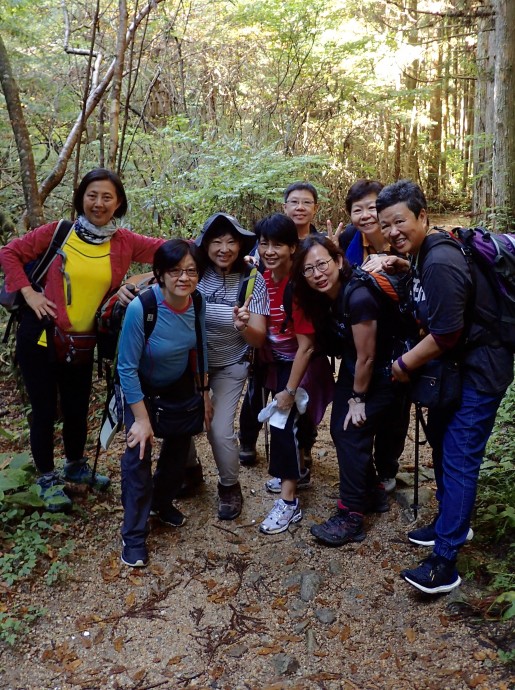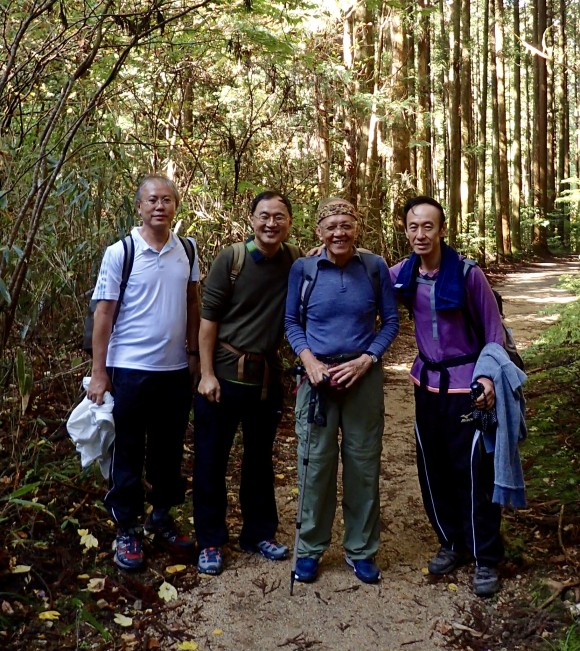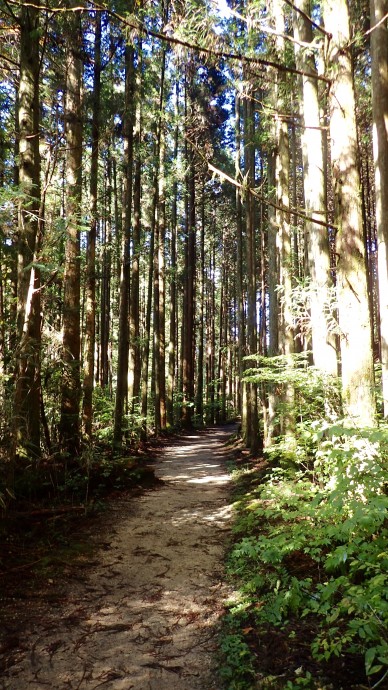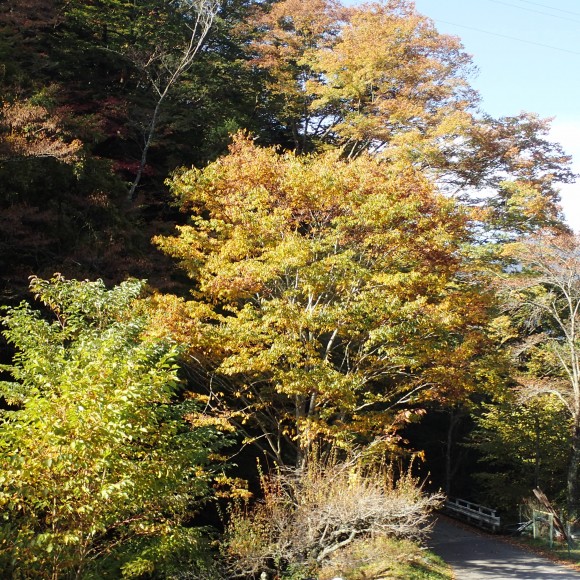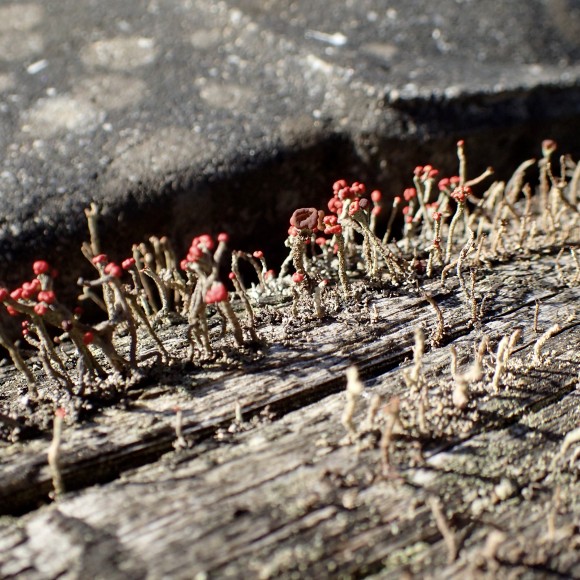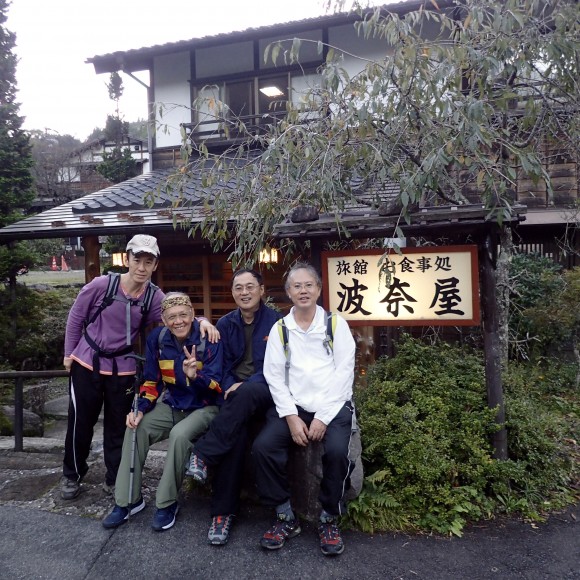 We arrived at the outskirts of Tsumago, another post town, and looked for the Hanaya, a traditional Japanese inn whose foundations were laid in the 17th Century. The décor was traditional Japanese with tatami-matted rooms with no attached bathrooms. Bathing and toilet facilities were shared in common – a distinct discomfort for all of us, but one we could manage since it was only for a night. The rooms were spacious but you had to lay out your own bedding and blankets. There were yukatas, the casual kimonos, and we decided to wear them later for the special sumptuous dinner that night. After checking in we quickly met outside to look for food at nearby Tsumago, another post town. A Japanese hiker pointed us in the wrong direction, so it was about 3pm by the time we walloped our soba in Tsumago.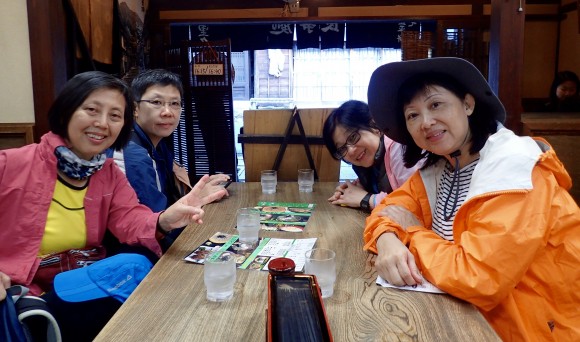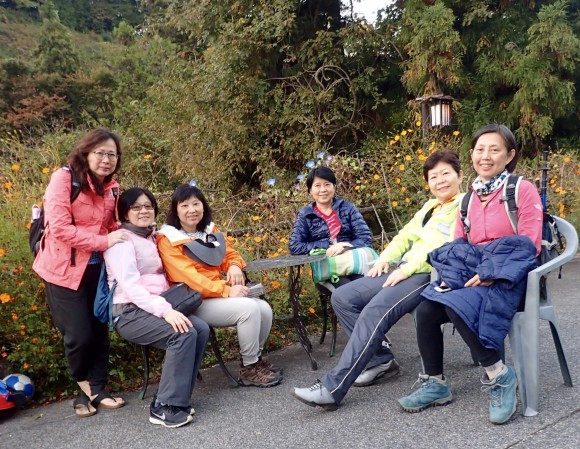 We got to see more of the countryside and back at the inn we took our bath, rested a while, put on our yukatas and were slightly late for a lovely, delicious Japanese meal. Besides us there were several angmohs at tables nearby. Lots of laughter, banter, photos, and many many oishis later we were sated and heavily seated.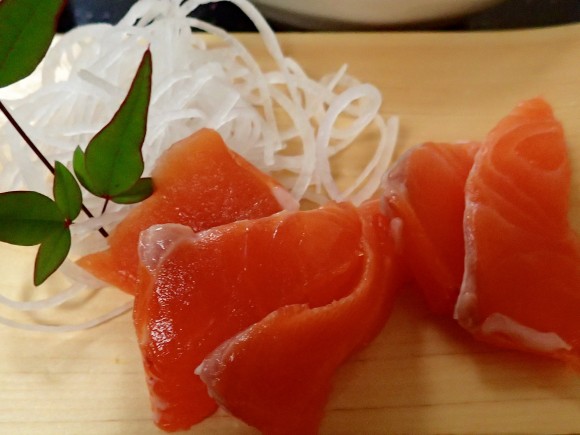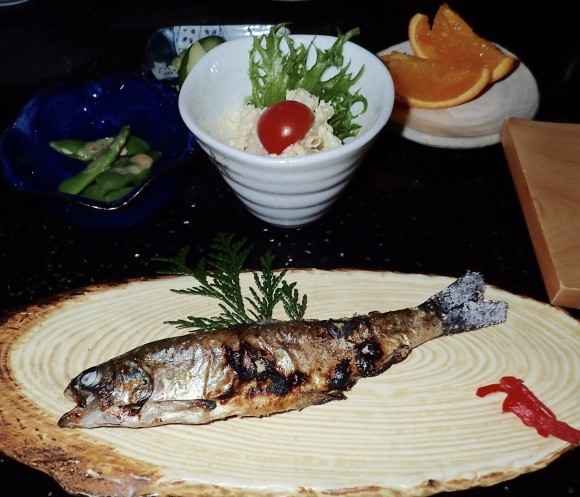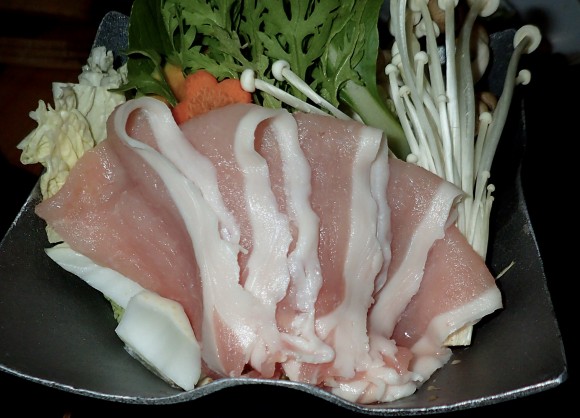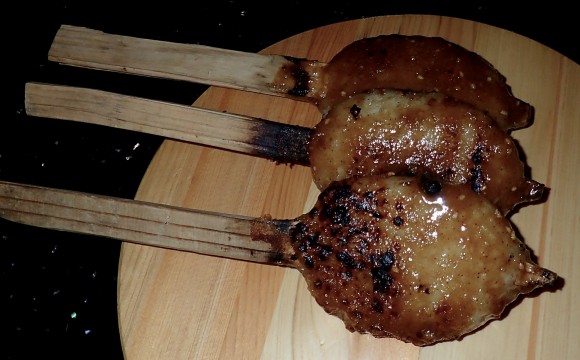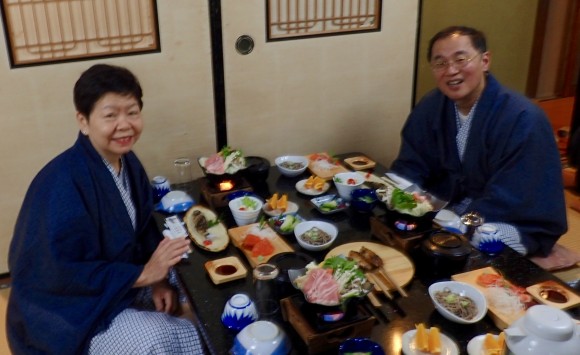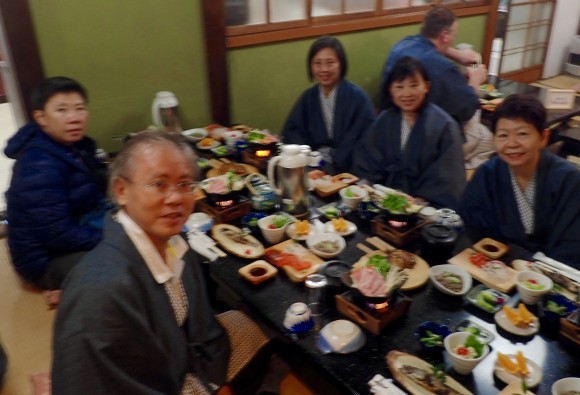 We clumsily got up after dinner and took many many one-two-three click clicks and ended chatting in the lounge area. I cannot remember what we talked and laughed about. It's one of those light hearted rounds that went nowhere.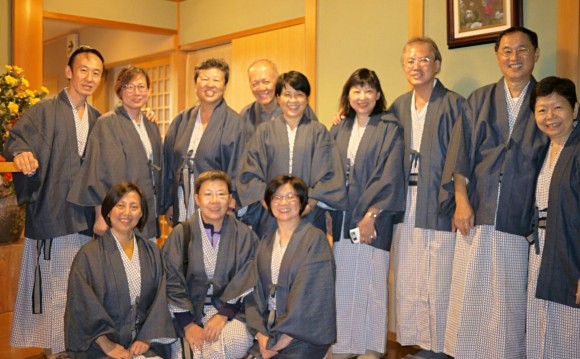 The inn had communal baths but I was not sure if anybody used them. I did not. The onsen looked like a 10 feet by 8 feet rectangular bathtub with steaming water. I had an early night – a cold night. The next day there would have been a short hike ….. a hike that we would thankfully cancel for reasons that I cannot recall. Thankful, not because we could laze around. I like hiking. But because it would rain the next day, and we were spared a cold, wet, muddy trudge through the forest. Thank you Lord.