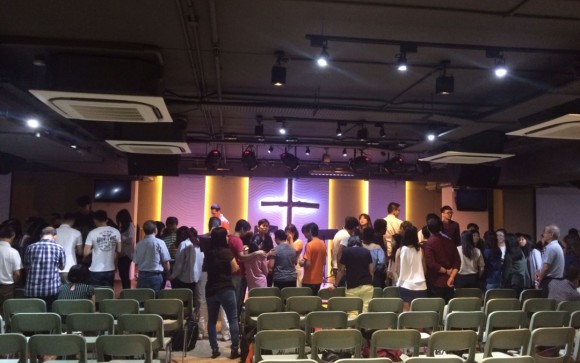 Today's Sunday Worship Service was devoted to encouraging and affirming and blessing our cell leaders for their works of faith, attitude of hope and love for God's people. We had a meaningful, wonderful and inspiring morning. These were some of the things we did:
We let everyone know that we were going to appreciate the the cell leaders and reaffirm the importance of cells in spirituality.
The 25 minute sermon on Matthew 6:34 was a word in season for the cell leaders and members. A sermon about the purpose of cell groups is so hackneyed we decided not to do it. Ps Thomas spoke on "Living in the Present", an exhortation to live fully in the present, and not to be stuck in the past, or to live in anxiety about the future.
A new member, Suling, shared with the congregation her thoughts about why the cell group was so beneficial for her growth.
Our youth worker Ethel Cannon-Shin shared how the new commandment of Jesus in John 13:34,35 should be the bedrock of the cell and how participation in a cell provides community.
We showed a video that stitched together every cell groups' words of appreciation for their cell leaders. This was a clincher and it affirmed and energised every the cell leader.
We called all the cell leaders out to the front and asked all the cell members to gather around them and pray for them. Each cell leader received a gift of appreciation.
We had some special light refreshments: ang ku kueh, with a tortoise impressed upon the cake, to symbolise longevity. We do hope the cell leaders will be sustained by the grace of God, and the support of the cell core team, and will continue serving and leading for many years.
How does your church recognise, appreciate and celebrate the cell leaders' contribution to church spirituality? Do use the comment box.
Cell appreciation from Tom Cannon on Vimeo.