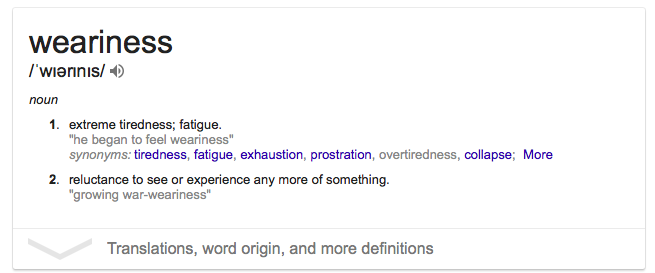 We do get weary of being part of a cell group. Have we ever felt "reluctant to see or experience any more of something",  like a  "cell group" experience? How do we revive our zest? By calling the triad to help. What triad? Faith, Hope and Love. Heard of them? Yes, this triad is not uncommon in the letters of Paul to different churches. They are the fundamental elements that keep the believer in Christ steadily on the kingdom path. I would add, steadily on the cell journey too. Here are just a few verses as examples:
So now  faith, hope and love abide, these three; but the greatest of these is love.(1Cor 13:13 EV)
We give thanks to God always for all of you, constantly mentioning you in our prayers, remembering before our god and Father your work of faith and labor of love and steadfastness of hope in our Lord Jesus Christ (1Thess 1:2-3 ESV)
So how does a believer or leader who is weary of being a part of the cell group recover his or her zest?
Ask three questions that are derived from Paul's triad. Let the triad help you recover your missing zest!
FAITH
Do you believe you can make a difference by your being a part of the cell group? You have to believe that your uniqueness as a person made in the image of God and redeemed by the blood of God is destined to make some unique difference in the cell community and beyond it. Your background and history, your knowledge and skills, your example, your stories and spiritual gifts, heck, even your mere presence itself will make a difference!
HOPE
Are you  willing to wait patiently for God to bring improvements and life-changes in yourself and others in His time? Cell groups are never perfect because they have imperfect people participating. There will be let-downs, frustration, conflicts, misunderstandings and despair over the hypocrisy and inconsistency and obstinacy of fellow cell members. Do you have your hope pinned in God's prayer answering and life transforming powers?
LOVE
Do your really love God's family? Not the large congregation on Sunday, which is easy to say you love; but the shoulder to shoulder, face to face tyre hits the road kind of love that sees the dirt, and smell the dung, and feels the drain of real people who are works in progress. God's love has been shed in your hearts and it wants to overflow from you and inundate a community thirsting not for Coke but for for incarnational love: the kind that listens, accepts, serves, reproves, encourages and journeys with the cell group to spiritual maturity.
Take these questions before the Lord in prayer. Tell Him exactly how you feel about where you are in each of the elements in the triad. Wait for Him to listen or just to receive life by being in there "with him" – a kind of spiritual osmosis. Do this in an extended time of unhurried prayer, perhaps over two hours or over a half a day of turning your heart to God.
You will gradually regain a sense of purpose, a renewed hope, and a fresh simple love.