We used the farthest corner of the bar. The staff gave us permission to use it on this the Lord's Day for a brief devotion. We spent time quieting down our hearts and turning towards God by meditating on Psalms 92:13-15. I particularly liked verse 14: "They will bear fruit in old age; they are ever full of sap and gr". There is no ageism in the Bible. It is so positive about ageing. Praise the Lord. Full of sap; and green too, in your sixties, seventies and eighties!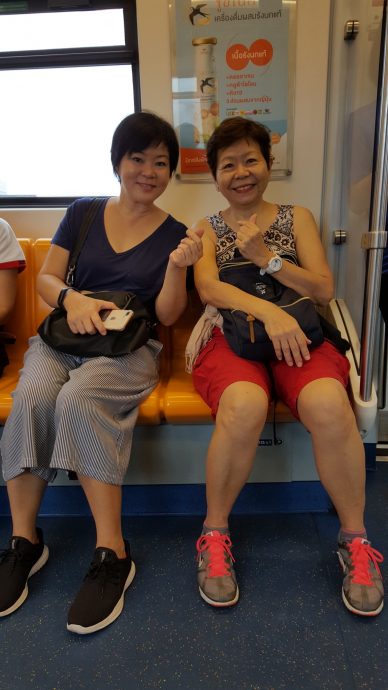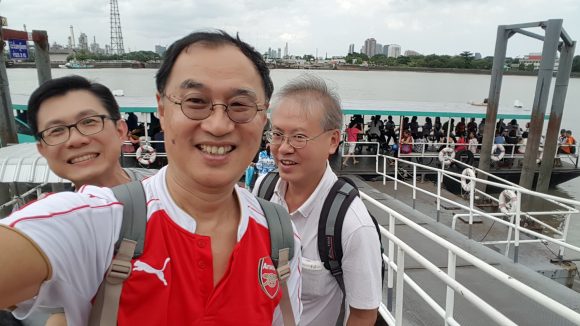 After that we set off to a local floating market called Bangnamphung. We took a train to Udom Suk and there we met Baby my sister in law who guided us on a "tour". It took a cab, a ferry and riding pillion on a motorbike to get to the local market. It would have been impossible without her!
The weather was humid and hot and the "floating market" which opens only on weekends was filled with local people selling their wares and locals buying stuff and just enjoying a day out. We ate interesting cooked foods, desserts, and cut fruits along the way. A few of us bought a S$2.60  T-shirts, kitchen ware, and locally grown garlic. Everything was inexpensive compared to Singapore. The colours, the sounds and the smells and movements all around combine with the humidity to make this an intoxicating and fun four hours.
Miraculously we prayed and the Lord was gracious to provide the twelve of us with a convenient transport on the way back. We were praising God.
In the afternoon, Zach, who is the person in charge of this Mission trip, and myself, met up with Noi the lady in charge of the Ruth Center. We had a good useful discussion of the project for this week. We were to build a concrete sidewalk, replace a section of rotted wood siding of a grandfather's house, and replace a section of rotted wood flooring with waterproof floor material. The grandfather had a stroke and his left side is paralysed, and the breadwinner, his wife earns 150 baht a day helping out in a school canteen. The Ruth Center is helping this family, and we volunteers from the church are helping out with manpower and materials. May God bless the work of our hands.
Tomorrow we leave the hotel by 7.30 am to try to avoid the traffic jam of Sukhumvit.  This means breakfast at 6am. Who cares if Germany plays a World Cup match with Mexico? I had better sleep early tonight.