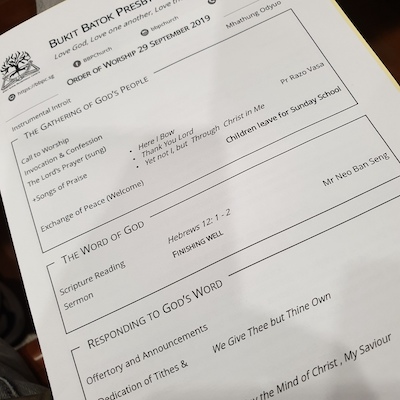 It should not be surprising that I am slow to realise how physically tired I really am. After all, this is the third time in 39 years of pastoral ministry that I am having a sabbatical. This first was for three months. The second was six months. I remembered how in that second sabbatical it took me about a month to get into a rhythm of rest and play and pray and be fully rested.
Now I am on the threshold of my third sabbatical of three months. I have been clearing my leave before my sabbatical officially begins on 1 October.
It is dawning on me that I don't have to do anything, that my schedule is no longer dictated by ministry routines, demands and expectations. I must admit it to be rather awkward, but pleasant.
I must also admit that trying to rest my body is a struggle. I become aware I am tired, so I lie in bed in the afternoon but cannot sleep. I keep resisting sleep, surfing Carousell for a bargain hybrid bike I do not really need, and scanning mostly negative news about Arsenal football club, and watching Netflix movies.
This is made worse by the haze outside. I am an outdoors person. To stay indoors is to rot. I would prefer to cycle or hike. But I have no choice. Fortunately, I have an aquarium (I built for my grandkids) to maintain.
I have been listening to Tom Wright's YouTube video lectures and find them brilliant and thought-provoking. Find myself drawn to theological reflection. I have also been waiting on God in silence…actually more of trying to slow down in his presence.
Yesterday, I visited Bukit Batok Presbyterian Church's Sunday service. I have some Swiss Cottage secondary school classmates who attend that church and I wanted to catch up with them. So we had breakfast at 9.45am before the service started at 10.30am. Then after the service ended at about 12.15pm we went for a long, long lunch – about 4 hours!! It was a good thing that parking was free on Sunday.