I attended a Covenant Pastors fellowship recently. This was not my first time experiencing the gracious hospitality and welcome in the home of Pastor Justin. He has been doing this for many many years. Long ago, I was a regular, until the pressures of ministry drew me away. Now that I have stepped down from pastoring I found myself gravitating to the fellowship. Of course, it is because I have more time and less responsibilities now. I even bring my wife these days to this and other pastors' fellowship.
Covenant Pastors is a fellowship of pastors and ministers from church and marketplace that has as its main focus fellowship, bonding and ministry to one another. They also focus on Singapore and the nations, and the wider Body of Christ. The fellowship is led by Rev Amos Jayarathnam, a humble but bold prophet, whom I got acquainted with in the late 1970's. We were from World Revival Prayer Fellowship. He is the real thing, a prophet: authentic and gentle, but a lion when he delivers the word of the Lord.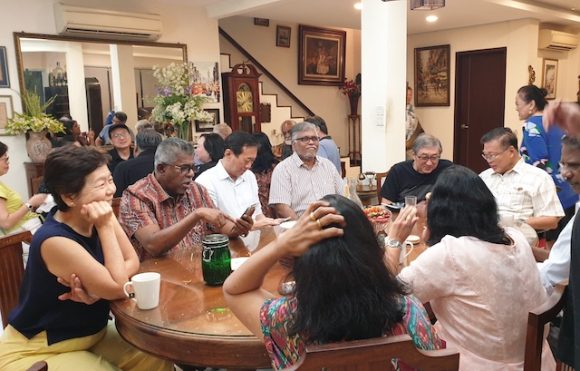 Pastor Justin Leong and his wife cooked up a sumptuous dinner for about 25 of us. It was pleasant to meet and get to know other ministers. I sat beside pastor Clare and she shared about her ministry with another church. Then we sang and worshipped the Lord (always led by Pastor Isaiah). I always loved this part – the anointing of worship helped me become keenly aware of God's presence and always lifted up my spirit.  Pastor Beulah had a vision of a high priest with the gem stones on his breast-piece, and those gemstones had our faces reflected in them. 
Jacob Sim, a prophet and an effective marketplace minister shared a word in season from his heart. It was about how to reach the omega generation by looking from God's PERSPECTIVE, and facilitating PERSONAL ENCOUNTERS with God, and POSITIONING.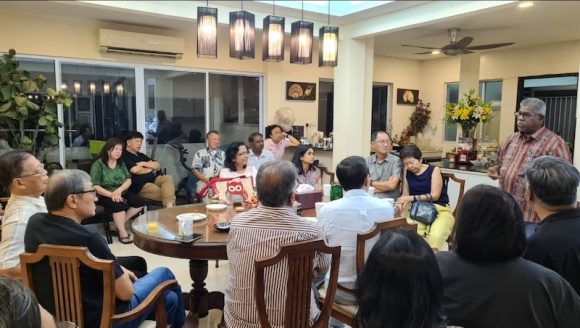 Amos then shared with us stories of his ministry in Russia and Estonia, and prophesying over Russia, and in the spirit, over Putin. His testimonies were astounding and inspiring. I never get tired of the stories of his prophetic encounters.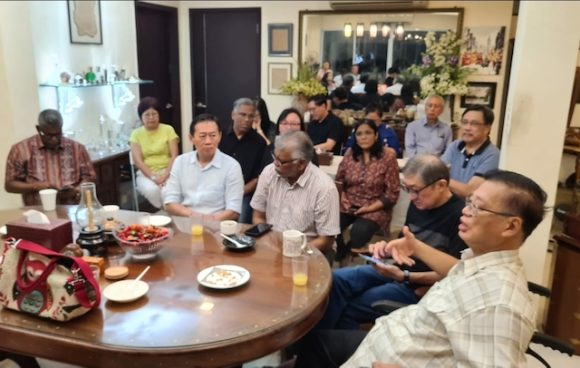 Pastor Henry then prophesied over me, and while he was prophesying, I felt a fire and heat rising up within my belly, and he too was moved by the Spirit. Later when we broke up into groups to pray for Ukraine & Russia, Singapore, and the Singapore church, I went to Henry and shared what I experienced while he was prophesying over me. There and then, Pastor Andrew shared what he saw. He saw the mantle of Isaiah 11:2 upon me: the Spirit of wisdom, understanding, and counsel. I received all their words with joy and reverence. I was indeed surrounded by prophetic ministers all around me. I will sit with these words before the Lord and continue to wait on Him. I left the fellowship that night in animated conversation with my wife, and walked with energy to the Tanah Merah MRT station. I pondered, "What does all these utterances point to?"
Have you been ministered to by prophets or prophetic ministers? Share your experience with us in the comment box.