The misspelling was deliberate: retyrement instead of retirement. With my retirement from being senior pastor of WRPF, I felt a retreat would be necessary to give me the spiritual space and pace to reflect on the past 40 years of pastoral ministry. The way to go forward is to first go backward and process the past. I had already begun reflecting on this for some months but when you are occupied with the stresses of pastoral ministry especially during the Covid 19, your mind is preoccupied and your emotions hide underground and are hardly perceptible. This retreat will help me slow down and free up sufficiently and allow the Lord, His Spirit to surface matters for reflection.
Covid 19 meant my colleagues had to cancel their retreats which they booked at the Seven Fountains, Chiangmai. I had not done any bookings for the year so I did not have the hassle of cancellation. Travel is not possible or viable in the foreseeable future so a retreat overseas is not an option. Even the retreat houses in Singapore were closed. However, I recently heard from friends that they have opened. So I picked a period when I was not doing any preaching or weekly zoom teaching, and applied for some dates. I was glad that the reply was swift and I was able to take five days over a weekend to have time to wait on God in silence.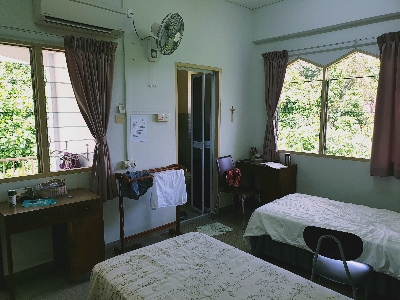 I am also thankful that my spiritual director, Lance Ng, who has accompanied me on my journey for a few years now, was also available and had a few directees in Lifesprings Spirituality Centre during that period. I was happy to use Zoom for spiritual direction, but since he was available, I was happier it was a live session. We communicate with our whole bodies so its better this way, and he can "read" me more sharply and fully.
I requested a room with an attached bathroom and I must say the room that was assigned to me is spacious and conducive with beautiful views of green foliage. It overlooks Bukit Batok Nature Park. My first apartment was a ten minutes walk from the park and I was very familiar with the whole neighbourhood. While the grounds here are adequate, just a slow walk of ten minutes will bring you to a large park conducive for reflection and prayer, with its many benches and gazebos.
The Centre is a ministry of the Canossian sisters. They have been doing fantastic work in Singapore for close to 90 years. They ran orphanages, schools and all kinds of works that helped the needy. They also ran this retreat house and have spiritual directors among them too. May the Lord continue to bless the work of their hands.