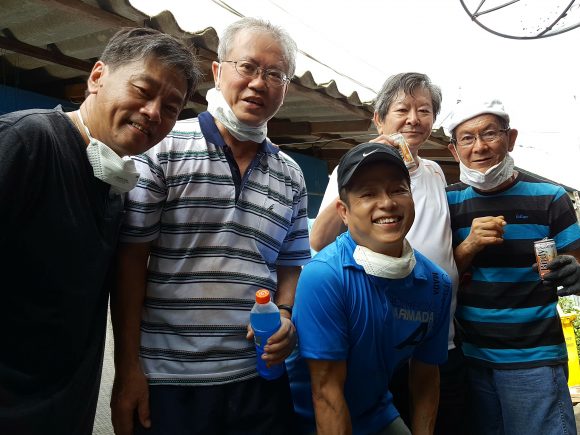 We were hopeful of completing the new floor and wall for the slum home of a poor elderly couple. But it was not to be. The amount of work exceeded our estimation. It could have been completed if we had better skills and tools. We had no lack of hands. We lacked skills and confidence. Nevertheless the team learned quickly by observing how Steve did things. He was amazing to watch. In fact it was fun to see how he handled different challenges and problems in the course of construction.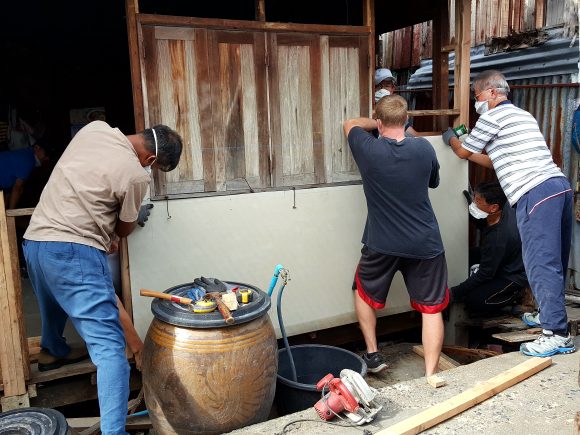 The floor boards were made of some kind of composite of concrete and fibre. They were heavy and even five of us urbanites could not lift them. However two of their locals easily lifted and carried all of them for us to the house.
I was not of much help to the construction, and sort of fell into the role of "unofficial" photographer and storyteller. So today I focused on taking good photos and on telling the story. I became more serious about camera angles, and interviewed the initiator and leader of the Ruth Center. I spent an hour talking to Noi the diminutive "giant" who ministered among the elderly poor. This story will require a post in itself.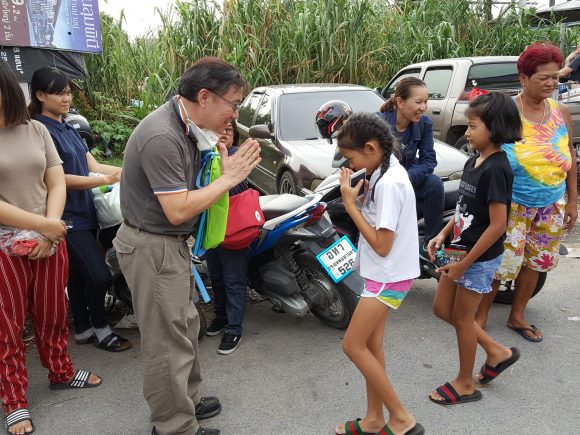 So at the end of the day, we finished 90% of the floor and 70% of the walls and decided to call it a day as it was over 5pm. Then we had to give away "Cold Storage" school bags to the poor school children of the slums.
By the time we were in the van, it was 6pm. This was risky. And our anxiety was proven true for we got stuck in the Bangkok peak traffic jam at Sukhumvit. The van was stationary for close to 10 minutes. Nothing moved. So when we saw the Rembrandt Hotel through the van window, we decided unanimously to take a walk. We reached the hotel in 15minutes! I think by the time we entered the hotel, the van might have moved a mere 100 metres.
We were learning when to be patient and when to be decisive.