What a memorable Golden Anniversary! Pastor Hock Lin and Dora Chua have been married for 50 years. That is 18,250 days, or 438,000 hours, or 26,280,000 minutes of journeying together in covenantal love! Pastor Gabriel Han, the apostolic elder of Ministers Fellowship International, Singapore, gathered pastors for a celebration for the Chuas at the stately Singapore Cricket Club. We were blessed by the fellowship, food, prayers and the speeches.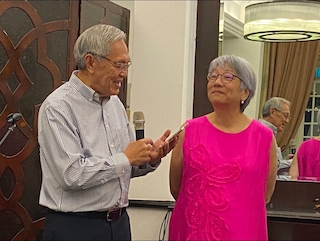 The Chua's marriage was marked by God's grace. I could see God's hand upon their life together, as they shared and encouraged us in their speeches. "Out of His fulness have we all received, grace upon grace, blessing upon blessing" (John 1) seem to me to be the verse that best describes their marriage.
Opposite traits attract before marriage, but after marriage they can attack. This was part of their experience and they were transparent in sharing glimpses of the tension, which resolved with communication, the input of loving community, and sheer patience. This couple was very real in their sharing, and we all could relate to them.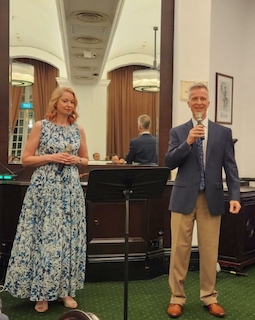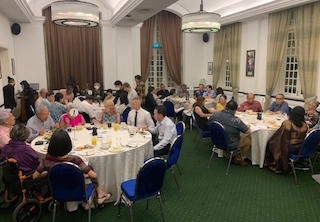 It was an encouraging, inspiring time as different people impacted by this couple shared their stories. Clearly, the Chuas have ministered effectively to a wide variety of people and situations: singles and couples, ministers and businessmen, church members and those outside of church circles. The one element that marked their ministry was the love of God that they reflected in and through their lives, marriage and ministry. More than one mentioned how personal and caring they were.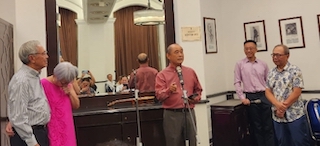 The second element was their gift of ministering the word in season, even when the word was challenging. A pastor shared how Hock Lin said to him, "You have to spend more time with your wife". The Chuas were tutored at the Lord's feet and often spoke for Him. "The Lord has given me the tongue of those who are taught, that I may know how to sustain with a word him who is weary. Morning by morning He awakens; He awakens my ear to hear as those who are taught" (Isaiah 50:4a).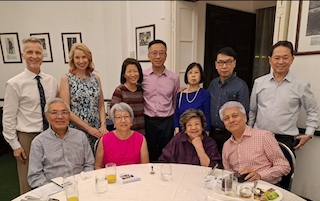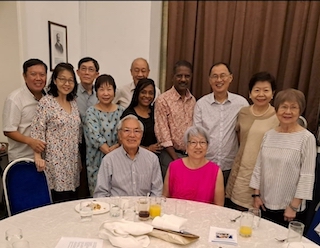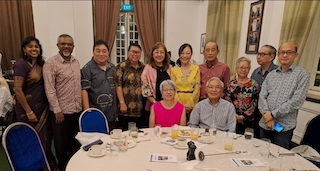 As I reflected on the celebration, three of the memorable quotes I remembered were, "God gave marriage to help us grow in Christ-likeness, but if this was not enough, He gave children", "It takes a community to grow a marriage", "The Seawards helped us in our marriage."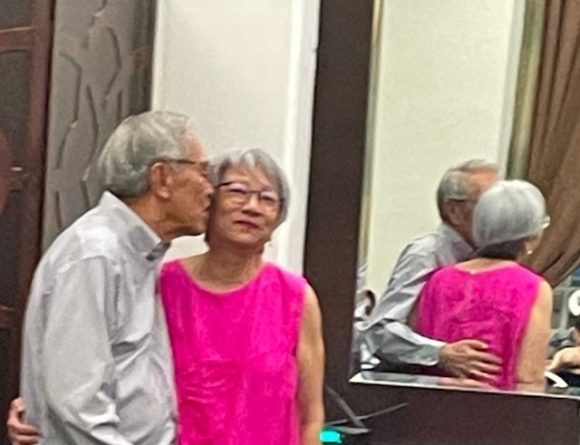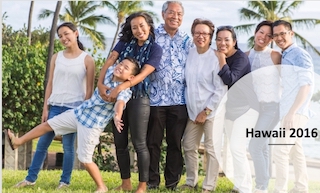 The Singapore Cricket Club is a lovely place with a British colonial feel and the rooftop space offers a vantage view of the Padang and the cityscape. The buffet was superb and as we sat around the table we got to know other pastors and leaders. It was a wonderful evening and I personally felt blessed.
After the celebration, as we walked to the City Hall MRT Station we could see people lying down or seated on the grass field, watching a light show projected onto the Singapore Gallery (former Parliament building). This relaxed scene was the cherry on top of this lovely anniversary celebration. My wife and I seldom go to the city, and it dawned on us that it could be quite interesting to do so at night. 
If you have been blessed by the Chuas and wish to add your story or simply congratulate them, do add some words in the comment box above.