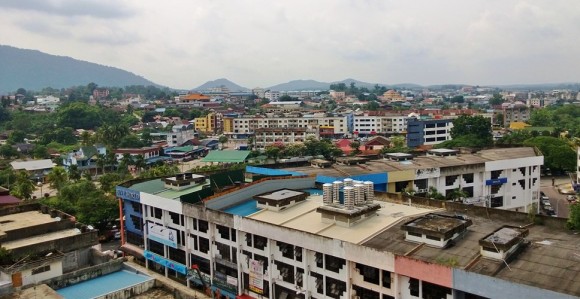 Kluang, Johor
Hotel Anika had seen better days for sure. Its old. But its reasonable room rate and convenient location was the reason why I stood overlooking a part of the second largest town in Johor state. This hotel was just a ten minutes walk from the Kluang train station. We had arrived from Woodlands by KTM train before noon on a Friday morning. My favorite part of the hotel was the bathtub. Soaking in warm water with bath oils before and after the trek was a ritual I enjoyed. For lunch we ate Chinese food next door at the famous Star restaurant. Their signature dish was their duck and their pork knuckle. After lunch, we bought what we needed for the trek from the supermarket next door and we had our dinner at the Ritch, a Western food joint. By nine, I had packed and was ready to go.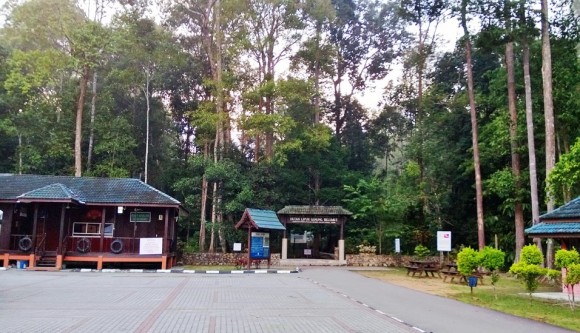 The beginning of the trail
We hired a van and it took 45 minutes for us to get to the park entrance where we would begin our trek. The large car park, playground, camping grounds and official buildings around were reassuring. The male toilet was dominated by a huge black circular cistern filled with water up to knee level. Must be for trekkers to clean up with spring water. We had obtained our climb permits but our guide was late. We decided we had to go without him as we were doubtful of our ability to reach the summit before 1pm. He would be able to catch up. So off we went in a trek that reassuringly reminded me of  the Bukit Timah trails. At least for the beginning stage.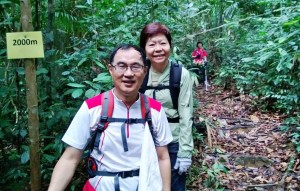 My wife and I
We have been trekking together for many years now. Its one activity we share together that we both enjoy. At 2 km we were still fresh. We carried about 2 litres of mineral and isotonic water in 4 bottles to distribute its weight. In the back pack were also a torch, our lunch, energy bars, a raincoat, and an additional T shirt and socks. By mid-morning we were walking along a straight ridge. The morning breeze was refreshing as we followed the clear trail. Then it got markedly more challenging: with slope inclines of 60-85 degrees most of the time. The trails were marked by knotted roots that snaked across the path. We had to pull ourselves up with the help of trekking sticks and grip sized tree trunks on both sides of the path. We rested at a shaded clearing before the false summit to have our standing lunch. I had a Kluang bak-chang (rice dumpling) and a fragrant pear and a banana. Even simple food tasted great after strenuous physical exertions. There was the usual banter and sharing of food before we started off again for the summit.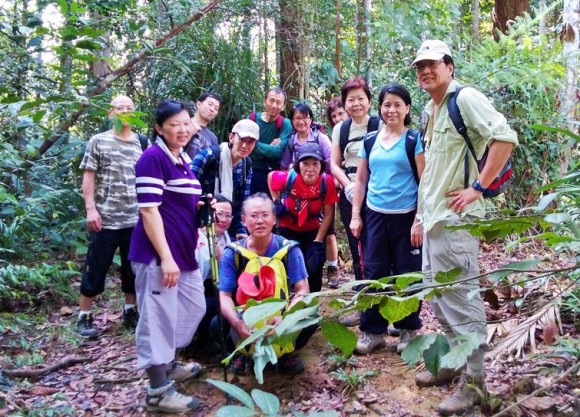 Fourteen trekkers
There were fourteen of us from different walks of life and religious persuasions. Most of us were in our fifties. Some had trekked regularly in different countries. Treks that never needed technical knowledge or skills. One Tan stayed behind at Kluang for he had recovered from flu, so he relaxed and enjoyed Kluang while we trekked. We were together for lunch, but then there would be a faster and a slower group as we trekked, with a leader in the leading pack that no one was to overtake; another leader in front of the slower group and one leader at the rearguard. On the way back down the trail, the groups would become three: one fast group; another at medium speed, and the final one, the "take your time" group.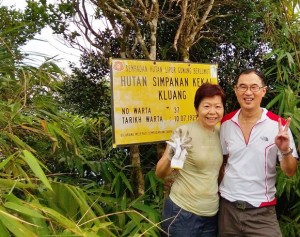 It's all about the journey
Somehow that photo at the summit is the proof that your trip had been worthwhile and money had been well spent. This is very Singaporean, perhaps universal. Everything is a cost benefit analysis. Its a groove we have been stuck in for too long. It's all about the journey not the destination. As we grow older we need to eject ourselves out of that mentality to an inner freedom that also appreciates the process not merely the almighty outcome. I remembered on my first Kinabalu attempt I did not reach the summit. At that point in time it felt okay. But back in Singapore I felt tak shiok (dissatisfied). I went again and made sure I conquered the mountain! What conquer irony. Actually the mountain conquered me, and I kept returning, and still wish to do so. I need to discard all this conquer and tak shiok mentality. Be fully present all the time and enjoy the process as much as the outcome (if you do reach it). All the while listen to my body. The mountain will always be there. If my body tells me to forfeit the summit, I must learn to forfeit it. However, young people can afford to delete such cautiousness. call this a cop out if you like, but this is my philosophy for this stage of my life.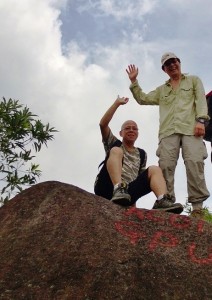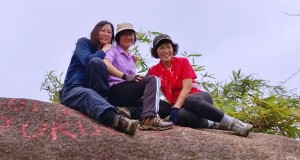 We spent about 30-45 minutes at the tiny summit clearing with other trekkers mostly taking photos and "un-leeching" ourselves and more energy loading. Until the skies warned us of possible
showers and we began to make our way back. Indeed there were showers and for the first time I used the throwaway raincoat I have been carrying in all my treks. A slight drizzle for about 30 to 40 minutes slowed us down as we had to be careful as we went down the steep slopes. Most accidents took place on the way down. At the same time we felt an urgency to cover as much ground before the rain got worse. The drizzle stopped, and after an hour or so, it rained more heavily. In the end, we trekked down. One group arrived an hour before the rest. The other two groups with a twenty minute gap. It was around 6 pm if I am not mistaken when I trudged back and washed up and warmed down. Where were we going for dinner? was the question on everyone's mind. We ate at BatCity, an open air coffee shop, followed by dessert.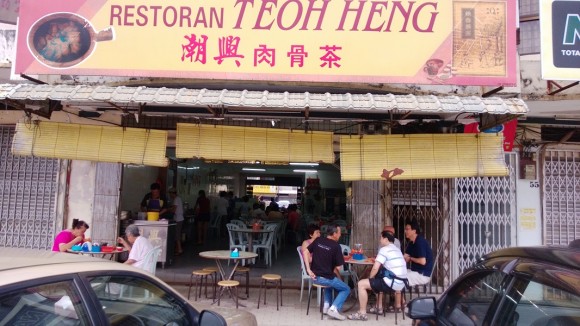 The winding down
The warming down was not of our limbs alone. We feasted. I soaked myself in the bathtub with bath oils. Some had massages. Pedicures and manicures. Shopping. The men went on a mini food trail: bak kut teh, followed by you tiau and coffee in two breakfast locations; famous beef kway teow for lunch, and I cannot remember what we had for dinner. Most importantly, in whatever activity we engaged after the trek, we teased and laughed and talked about various incidents and observations during the trek and all that sparkle and fizz increased the enjoyment of the trek, and deepened the bonds of friendship. 🙂
For anyone interested in doing a climb there, I recommend a Malaysian blogger's detailed entry of her trek to Belumut as it helped me prepare myself mentally for the climb. Go HERE.