Stalled car and stalled mind
My thoughts jumped about like monkeys in a tree. I had to tell pastor Lawrence Koo of Agape Community Church about what happened. He may have to be prepared to speak instead, as I was to be the guest speaker in his 4pm church service on Saturday. Maybe I should call for a tow truck. I should get a cab, but can I leave the car here on busy Bukit Timah Road? I could not get him, so I messaged him and hoped he read it.
My car had stalled in the middle lane near Eng Neo Avenue, but I managed to slowly guide it to the side with my hazard lights on. The stalled car was hampering traffic on lane 3.  Somehow I managed to get the car going again, with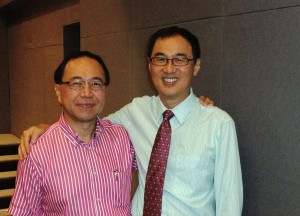 the air-con switched off, but the car stalled again along the main road, and I managed to guide it into quiet Dunkirk Road. Hailing a cab, I dashed to  Toa Payoh where the church meets in a cozy red auditorium, that could easily pass off as a cinema.
Pastor Lawrence Koo
The singing had already begun and Pastor Lawrence was glad to see me and I was glad I was only 10 minutes late. My thoughts still wandered about while others worshiped. Lord, give me Your peace and I entrust the situation to You. Before I knew it, I was graciously introduced. Pastor Lawrence and I first met when we went together to visit Willow Creek Community's Church conference about a decade ago. He is a widely respected Assemblies of God minister who during his Bible college days planted a church in Seremban, Malaysia which today is one of the more notable churches in that town. We have caught up on various occasions since then . He went frequently to the annual Leadership Summit hosted by Bill Hybels' church. What a wonderful thing it was when he actually brought the Global Leadership Summit (an abridged video version of the Summit) to Singapore several years ago and chaired the executive committee for several years. He provides able and loving leadership to Agape Community Church and chairs the denomination's Bible college, A.G.B.C. It was evident there was a strong bond of love between pastor and congregation.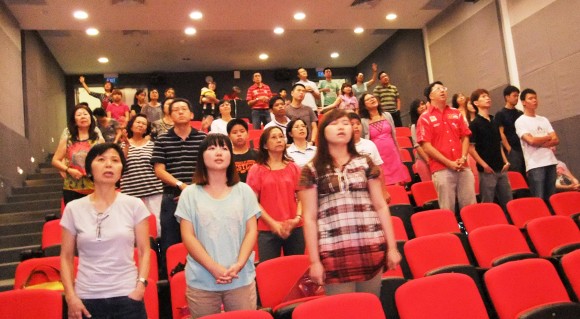 Before I knew it I was at the sleek modern pulpit and despite a slow start managed to gradually connect with the congregation that comprised mostly young families. I preached to them some fundamental truths of what the Father has done for us from gospel-rich Ephesians 1: 3-7. I talked about the Father's love for us: how He wants to bless us; how he had chosen us, and adopted us as his children.  The message was peppered with lots of relevant illustrations and analogies and applications.
Chong's car diagnosis
The service ended and the people were friendly and Lawrence introduced me to Chong, an expert with cars. They were very kind and drove me to my stalled car. Chong took about 25 minutes to investigate the problem thoroughly. His diagnosis: radiator problem. You can drive back but do so without air-conditioning and keep sight of the temperature gauge. As I drove off, I thank God for this kindness, and was happy to be safely home and to have the car to use on Sunday.