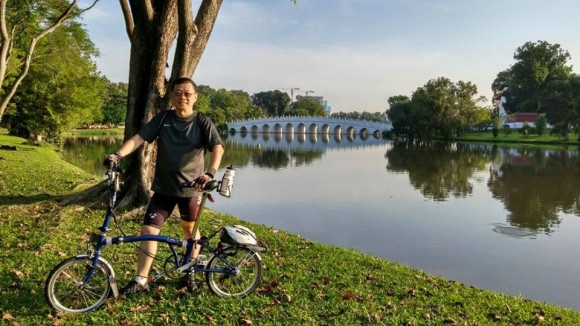 It began with a dream. Pastor Richard Wong of Singapore Canaan Christian Church messaged me that he had a dream that both of us cycled together on 11 May when his wife was away on vacation. My reply to his interesting dream was, Why not? 11 May would be a Monday and I had my day off every Monday. We arranged to meet at 7am at the Chinese Garden MRT taxi stand.
From his home in Potong Pasir, he took a cab with his Brompton foldable bicycle in the boot. For him it was a journey to the west. He arrived too early at 6.30am and had to wait. On the other hand my home was a 5 minutes ride away. Once we met we were on our way to a whole day of riding under the sun, and fellowship in the Lord.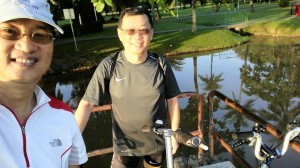 Since Richard came all the way at some cost, I felt I must show him all the lovely park connectors (PCN) linked with Jurong East. The first PCN I took him on was the Jurong Lake PCN, a return trip of about 10 kilometres. There were many scenic spots for nice photographs and we took time to pose and shoot. He was quite impressed.
Next in my plan was breakfast, and I led him to Teban Gardens, to a coffeeshop next to the hawker centre. This coffee shop served good coffee and had a Malay stall that sold fragrant nasi lemak and a popular 50 cents curry puff. The coffee shop also had an Indian stall popular for their roti prata and their nasi beriyani. We had a leisurely breakfast and chatted about things I now cannot recall. Thumbs up to the breakfast and we moved off to link up to the next park connector.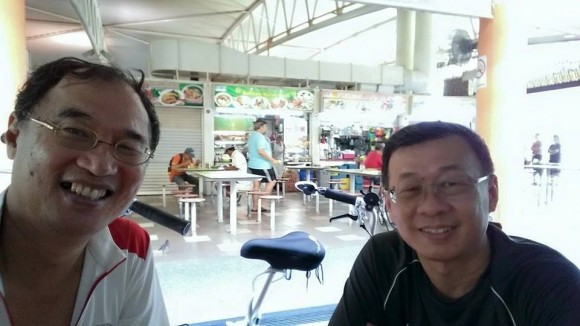 We rode up a beautiful and well designed bicycle overpass that connected the Teban Garden estate PCN to the Ulu Pandan PCN. The bitumen overpass was built with beautiful steel railings and with a comfortable gradual gradient without any bumps. No expense was spared to make it aesthetically impressive and functionally efficient. Richard remarked that the authorities built a lovely bicycle overpass. I agreed wholeheartedly.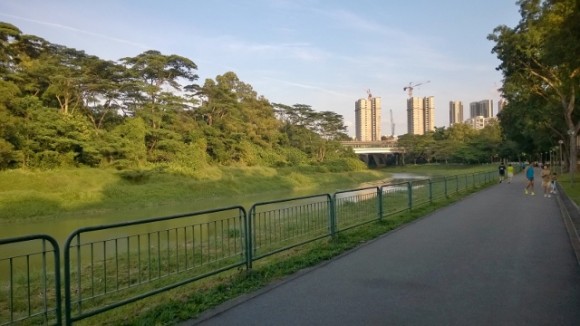 The Ulu Pandan PCN was a straightforward bicycle and joggers trail and by the mid-morning time that we used it, we were under the hot sun. We rode hard and we rode fast most of the time until we reached the Ghim Moh temporary hawker centre. What relief it was to be out of the sun and to have a cold soya bean drink. Had a leisurely chat. Soon we were riding hard and fast to the Bukit Batok PCN with the objective of seeing Little Guilin.
This time we switched bikes. I rode his Brompton, the "BMW" of foldable bikes, and he rode my Cronus Earl 3.0. Bikes have their distinct voice as the wheels turned. The rider may not be able to hear it clearly, but is able to hear other riders' bike humming by. My bike that he rode does not have a nice voice. It sounded cranky, like it had some loose nuts and bolts that needed tightening. Earlier when he rode the Brompton, I could hear the click click click of his wheels: the sound of British engineering.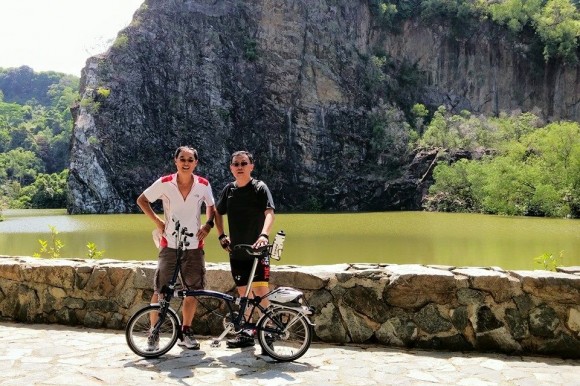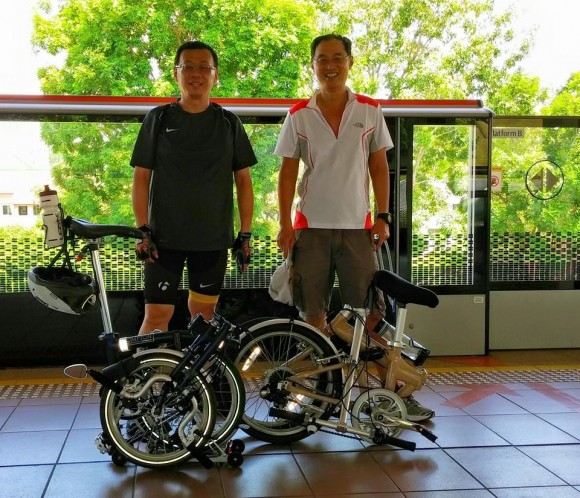 By the time we reached Little Guilin the sun was overhead and the sunlight was too harsh for photography but we managed to redeem our photos with editing tools.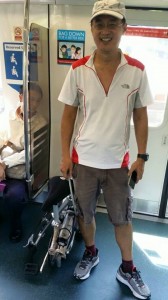 We were punctured by then and we decided to take the MRT from Gombak, which was next to Little Guilin, to the Jurong East MRT. Neither of us have used the MRT with our folding bikes. There are a few conditions for riding the MRT with a "foldie". First, it must be outside peak hours, from 9.30am to 4.30am. Next, your foldie must be within the stipulated size. Next, you have to use the elevator and enter the first or last coach. This would be a first for us, and I entered in first, as my bike looked bulkier. If I was turned away, we could cycle back together. As it turned out it was no bother and we located the lift and used the first coach. What a liberating experience.
We ended in Jurong East MRT for lunch. Lunch was Redhill fishball noodles at the Isetan supermarket food porch. After that he visited my home for coffee. It was a satisfying day. We made Pastor Richard's dream come true.