Missing from Pentecostal pulpits
It is not uncommon for Pentecostal churches to shelve preaching on Pentecostal distinctives as they seek relevance with a contemporary audience. Addressing felt relational, emotional and felt needs of church members take priority over church's distinctives. This can happen because the Pentecostal doctrine of baptism of the Holy Spirit can be an offence to today's young adults. Yet it must be talked about or we will lose our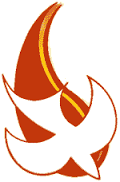 heritage, our identity and one of God's greatest gift to his church and his greatest resource to reaching the world for Christ.
The Baptism of the Holy Spirit
I announced and planned a series on the Holy Spirit. I initially planned something that began with the works that the Holy Spirit would do according to the teaching of Jesus in John 14-16, and then talk about the Baptism of the Spirit, and finally a session on Speaking in Tongues.
However, as I proceeded to prepare, with the Lord's influence, it began to be (1) The Baptism of the Holy Spirit, covering the five incidents in Acts when the Spirit was poured out as initiation experiences/encounters. After feedback from members, newbies and mature ones, I slowed down and stayed with Acts 2 the Day of Pentecost and drew most of my observations and conclusions from Acts chapter 2, after painting a picture of what happened there, giving the Bible background of the passage. I also brought in two persons, one of mature age, and another younger person to share their experiences of being baptized with the Holy Spirit and how the gift of tongues had blessed them.
At the end I gave an invitation for prayer for fresh anointings and healings, and invited those who wanted to be filled with the Spirit to meet at the conference room after the service. Three adults in their 50's showed up. After giving them a briefing, several of us laid hands and prayed for them to be filled and remarkably they were granted the gift of tongues within fifteen minutes, and we spent the rest of the time praying, prophesying, anointing with oil, and singing in tongues for another 20 minutes or more.
My Cry and Prayer
It was a blessed time and gratifying. My only disappointment was that not many of the younger age group were there desiring and thirsting for the Baptism of the Holy Spirit. I am praying that God would stir the hearts of people who had been content with what they have experienced of the Christian life thus far, with a holy discontent that wants more, indeed ALL of what God promised and intended for His people. May we have a people with hearts aflame for the passion of His name.
I wonder if it is the same with the church you worship in. Do they preach about their distinctive? How often?