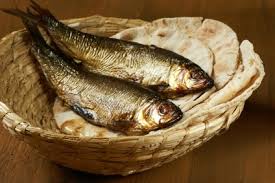 5 When Jesus looked up and saw a great crowd coming towards him, he said to Philip, 'Where shall we buy bread for these people to eat?' 6 He asked this only to test him, for he already had in mind what he was going to do. 7 Philip answered him, 'It would take more than half a year's wages to buy enough bread for each one to have a bite!' (John 6:5-7 NIV)
When we are faced with a challenge what would be our response? Would it be one of faith, hope and love? Or would our response be one of fear, despair or indifference? What would be your internal and spontaneous response when faced with a challenge?
The company announces that your department will be affected by a restructuring exercise. The Polyclinic suddenly urges you to immediately go to the Accident and Emergency Department of a general hospital. Your daughter has sent hundreds of resumes to secure a job but all were unsuccessful.  You have been praying for a loved one to be cured of a serious illness for some months but the latest check-up showed that his condition was getting worse.
What is your response to these challenges? One of faith or fear? One of hope or despair? One of love or cold indifference? God is testing you because he has hopes that you have it in you to respond with faith, hope or love. When you respond with faith, hope or love, it pleases the Lord and puts a smile on his face. It gives him great pleasure and joy.
Philip was put to the test by the Lord. There are thousands of hungry folks here. "Philip how can we feed these people?" Philips reasoned and very rational response was, "No way we can feed them. We don't have the finances. Why even six months' salary could only put a mouthful in each of their mouths!"
Jesus knew he would do a miracle of multiplication. However, he always wanted his friends involved in his kingdom miracles and work. He had hoped that since Philip had seen the miracle of the supply of the wine he would say something like, "Lord you supplied wine supernaturally. Surely you can supply food supernaturally too!" But Philip did not say that, to the Lord's disappointment. He relied on his own understanding and on what he saw and calculated. "No way Lord, we do not have the budget to take care of their needs."
"Oh Philip, how long must I be with you guys. How many miracles must I do to show you my power and love? O you of little faith!" Did these thoughts flash through Jesus mind?
Thank you, Philip. You are not alone. We identify with you. I and many like me would respond as you have responded. We think in very human terms: by what our senses tell us. We are greatly limited by our lack of faith and imagination. We are too practical and realistic to imagine a solution that the faith of Jesus had actually grasped.
Lord increase my faith. Your ways are higher than my ways. When I am faced with challenges and limitations and impossibilities, help me to believe, to have hope, and to love. I want to bring a smile on your face, and great wonder in your eyes.