Tucked along Bukit Batok Street 11 and opposite St Luke's hospital is the one and only Presbyterian church on a HDB site won by open tender. The Presbyterians have a few churches with HDB catchment areas but these are either in schools like Presbyterian High or were built long ago, like Glory Presbyterian Church. This church, Bukit Batok Presbyterian Church, was opened in 1995. It is one of two visible churches in Bukit Batok, the other being the Roman Catholic St Mary of the Angels. It was a branch church started by Orchard Road Presbyterian Church.
Bible Study Fellowship of the west
My wife attended this church on Tuesday mornings for seven years for Bible study organized under the international BSF. Many ladies from different denominations would attend this popular BSF site and it was very generous on the part of BBPC to host them.
Two English services
The church was a 10 minutes drive from home, so we left home at 8am.  The overall attendance of the English services were a combined 250-300. The early morning service targeted the young people and those who wanted a less traditional service- praise songs and a band. On the stage was what I thought was some sacred furniture covered with heavy blue material. As the service progressed, I laughed at my ignorance, when the puppet team performed a skit aimed at children from behind the blue-dressed puppet stage.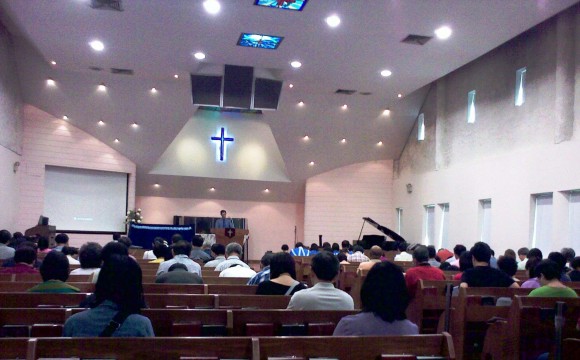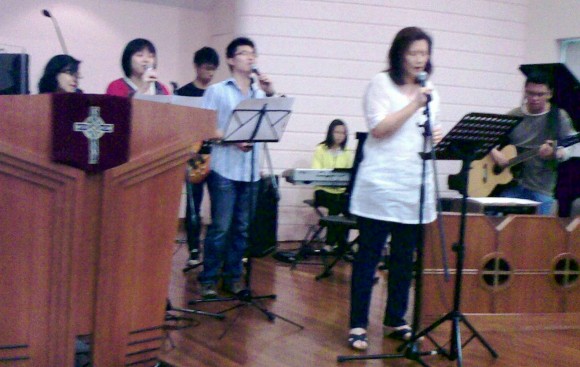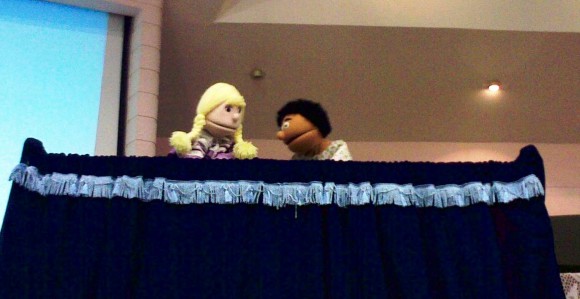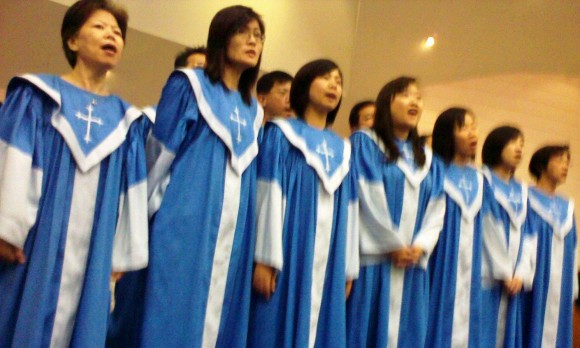 The traditional service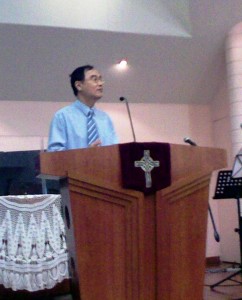 The 10.30am service was more formal and traditional. The uniformed choir sang an anthem and every song was interspersed with other elements like prayer, offering and scripture reading. The worshippers were mainly adults in their 40s and 50s. The text they gave me was Ephesians 6:5-9  where Paul wrote to Christian slaves about finding inner freedom in constrained circumstances. The title of my sermon was, "From Unfreedom to Freedom" and demonstrated how God wants to redeem the thorn and thistle of toil and transform it into the gift of work. Preaching two services gave the opportunity to fine-tune the sermon for the second service, and that's why it turned out better.
Surprise, surprise
Pleasant surprises awaited us after the service. Neighbours from our apartment block greeted us with loud hellos when we stood at the door to shake hands with the members streaming out of the auditorium. In addition, two of my Swiss Cottage Secondary School classmates, Soy Tee and Sze Chuan, greeted me with warm smiles, and I was briefly introduced to their families.
Ministry to different nationalities

One of the strengths of BBPC was its offering of services in the following languages: English, Mandarin, Indonesian, and Myanmese. They had different services for different folks. They do a particularly good outreach to the Chinese nationals.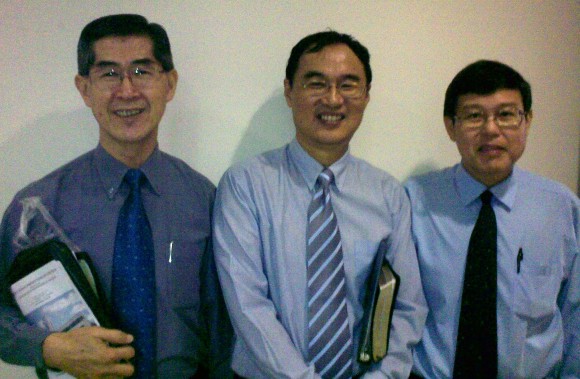 Perceptive and sharp
However, their greatest strengths probably lie with the quality of their pastors. The English service pastor, Rev Eric Chua, was trained in architecture, and then in theology. A sharp thinker and spiritually perceptive, he gives good advice, and makes insightful observations about the church at large. We served together in the exco of the Church Resource Ministry Singapore, which focuses on mentoring marketplace leaders and pastors. It was a privilege to be invited by him to take the pulpit, and I enjoyed sharing my heart with him along the way. As iron sharpens iron, so one man sharpens another.
Humble hospitality
Rev James Seah, the other pastor brought us out for lunch in the nearby food court. We ate fish soup rice from the famous store once recommended by "Yummy King" and to top that we had durian for dessert. Wow…this pastor knows how to select D24 bitter-sweet durians. He said, "I was from Muar where I learned how to pick good durians." My wife and I were further impressed with his servant attitude. It was the way he served us, and his warmth and friendliness. He even picked up a plastic container to clear our table of durian seeds and husks. Lord, send us more pastors from across the Causeway. Amen.