This documentary done by Salt & Light is surely a landmark in Singapore's Christian media history. We have had books about the history of the Singapore church ("In His Good Time" by Bobby Sng), and about the charismatic revival of the 1970's ("Unfolding His Story" by Galven and Georgie Lee ), but this is the first time a significant full-length documentary has been launched by Salt & Light a Christian media company. It comprised mainly current interviews, old photos and film footage of witnesses and participants of the revival of 1972.
I can imagine the challenge it presented to the media team, sourcing and collating all the old photos and rounding up revival witnesses and filming all the interviews. The amount of man hours and talent involved is huge. I first received a WhatsApp message from Thomas Franks introducing himself on 6 February 2022, and he probably had started the ball rolling even earlier.
If the revival took place in 2022, there will be no lack of videos, social media traces, lots of Instagram pictures and Tik Tok and YouTube videos of the revival. In fact, it will be in excess – a huge video editing migraine! But it happened 50 years ago, when most of us do not own a camera. So lots of archaeological digs! Besides the initial meeting, when Thomas Franks the video producer, noted down facts and opinions, there were many occasions of clarifications about events, facts and photo sourcing. Then there is the script to write and the interviews to do. Monumental task.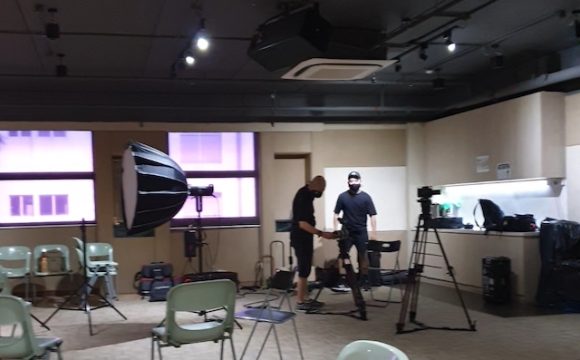 The video team came to World Revival Prayer Fellowship (WRPF) an hour earlier than the appointed time to set up their equipment, and they did about two hours of filming on a few cameras, for the two interviews about the revival in Dunearn Secondary Technical School, which then grew into WRPF. By the time they finished work, it was close to 4.30pm. It took a whole day for the media team, and these were only the raw files, which then had to be sifted and edited, to fit with the storyline and script. And ours was only one side story among many side stories.
I was glad to be part of the project, and to see myself talking in the video and contributing to the story of the revival of 1972, gave me a sense of satisfaction. The revival story was richly multi-faceted and yet there is a unity about it and this is clearly reflected in the video. You can see and hear me at the 8.15/8.30 minutes time stamp.
May this video stir a hunger among generation next to seek a new move of God for their time. It won't be the same kind because God is not stuck in the past and his wisdom and creativity is greater than our forecasting capacity. Eyes have not seen and ears have not heard what God has prepared for those who love him.
If you were a participant of the revival of 1972 that went on for close to a decade, please feel free to tell us your story in the comment box. Thank you.