The Mt Hallasan hike gave me a muscle strain on my right leg so it was good that on the day after, we did not hike, but went instead on a sightseeing tour around Jeju island. We saw a UNESCO World Heritage site called Manjanggul Cave, a tunnel cave formed from volcanic lava flow. It was an hour into the tunnel and out, and I was frankly disappointed because I have been to the Mulu Caves in Sarawak, and this was boring by comparison.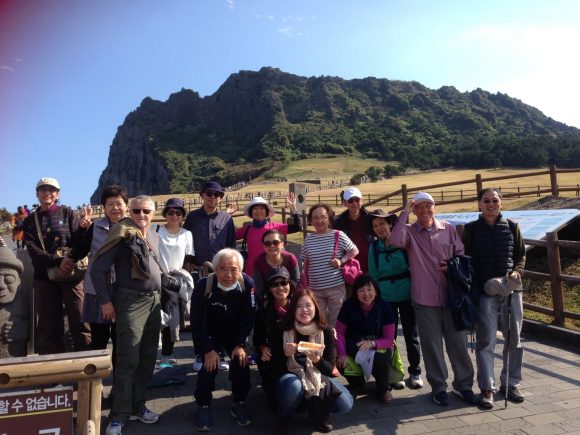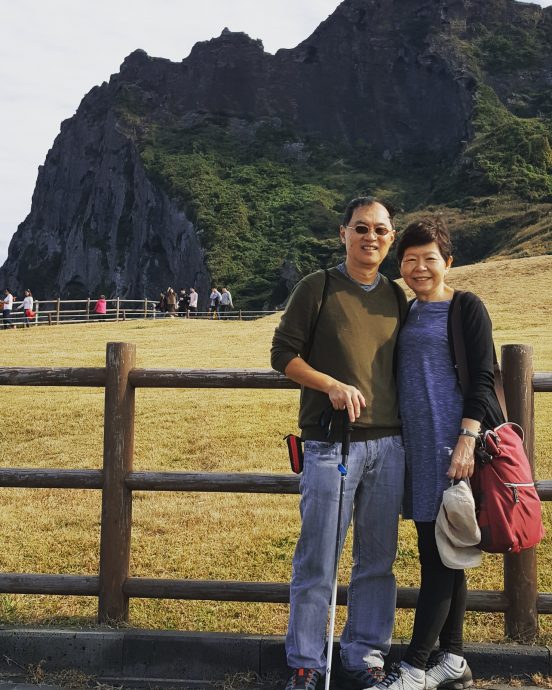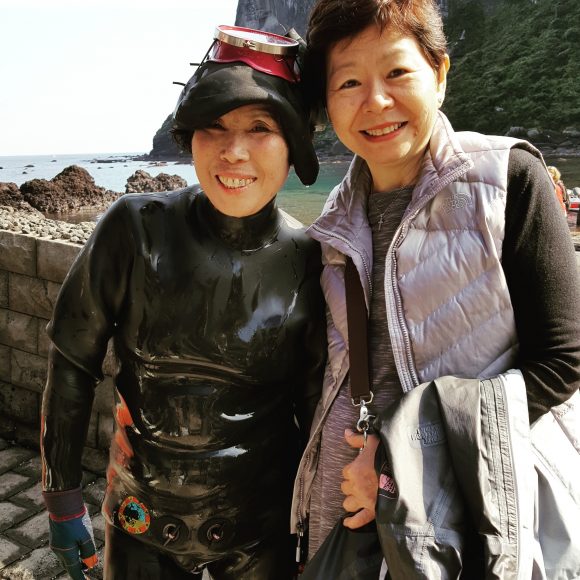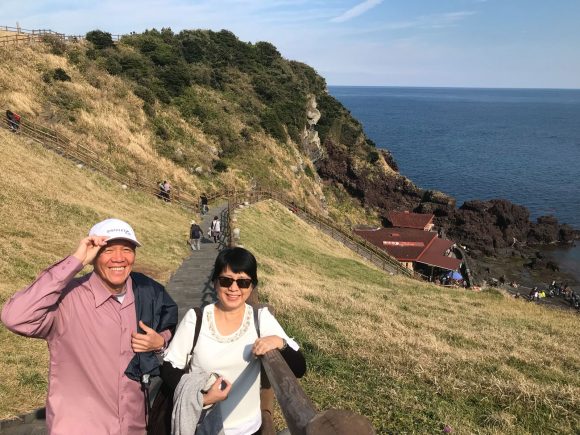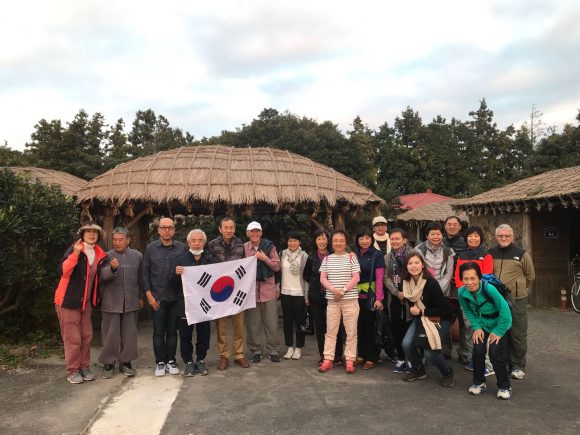 Later we went to another UNESCO World Heritage site, the Seongsan Ilchulbong (sunshine peak) a volcanic tuff cone. It was a beautiful spot and we found the cone a gradual and easy ascent. At the foot of the cone, by the sea, they cleverly put on a regular show of the haenyeo (literally, sea women) who were strong female divers who made a living diving deep in cold waters for abalone and sea urchins. They demonstrated their prowess to tourists and sold their fresh catch nearby. Later in the afternoon we visited Naganeupseong folk village where an elderly man gave us humorous insights into their culture and rural life. Then he brought us into the room to sell us horse oil cosmetics!! This was a relaxed and pleasant enough day, though I had to use a hiking stick and occasionally rub Fastum on my aching right leg.
When we registered at the Jeju Olle Walking Festival (3 & 4 November 2017) we received a gift packet of mineral water, a metal cup, Innisfree sunblock, a scarf, some biscuits and cheese snacks and a guidebook. The starting point was noisy with excitement in the air. All kinds of announcements were being made on the stage and there was live music. The weather was cool and it was a beautiful morning by the coast. It was to be a 14.5 km coastal walk on the first day and another 18.5km coastal walk on the next day. The distance covered was more than what we did in our endurance training in MacRitchie reservoir in Singapore, but after Mt Hallasan this was comparably bearable, perhaps even pleasant by contrast. We were to discover that Jeju had a very rocky and stony coast. I did not see any sandy beach front until we reached the end point.
We had different starting points on both days but both ended in the same end point destination. The views were quite similar along the windswept coast but on the second day we walked inland through mandarin groves – a happy variation in scenery. Along the way they organized performances: saxophone, violin, even a grand piano performance, and at the end a rock or jazz band. There were many professional videographers along the journey but mainly at the endpoint. This event was telecast on Korean national TV. On the second day, they interviewed the Japanese Kyushu team who were here to learn as they were planning a Kyushu Olle Walking Festival in a year or two.
Lunch was ordered online and they were cooked by the locals – a way to help the elderly earn some pocket money and stay active. They had rice with hot soup with side dishes on trays, on both days. On the first day, lunch was served at a park along the coast. On the second day, it was at a primary school inland. We sat down in the fields and ate our lunch. We started each day at about 7.45 am and returned back to Forest Hostel in time for dinner. On the whole, it was a memorable fun walking festival that most people with minimal physical training can enjoy.