Looking at the online used cars market (sgcarmart) has been frustrating. Depreciation of used cars with one or two years left in their COE went at an average of $1,000 a month. This means I lose $1000 a month to own the used car. This is before adding the driving costs of insurance, road tax, petrol, repairs and maintenance. You wait and you wait and it does not get better. The prices of used cars went north. The costs of owning a used car in Singapore is crazy.
Was it ever like that in the past? I do not know. I drove a church van from 1985-2004, nearly ten years, so I never had to look at the car market. Only about ten years ago the church paid about $60,000 for a Hyundai Matrix. Today that amount is a wee short of paying for the Certificate of Entitlement (COE) – the permission to use a new car in Singapore for ten years.
But God answers prayer. He did say, Ask and it will be given, seek and you will find, knock and it shall be opened to you.
Help came to me in the grace I have received from God to cope with using public transport. I admit it is tough during peak hours in the MRT and I avoid this whenever I can. So I was able to take the train or the bus to the church office or to Trinity Theological College library. His grace and my umbrella and short sleeve cotton shirts were sufficient.
Help also came in the form of friends who went on overseas vacations for one to six weeks and let me use their cars – a blessed convenience indeed. Thank God for that. Once an American missionary, James Creasman went back to USA, and let me use his Toyota Picnic for several weeks since its COE had not expired and that covered a busy December period when I needed a car badly, bless his heart, and bless the Lord o my soul.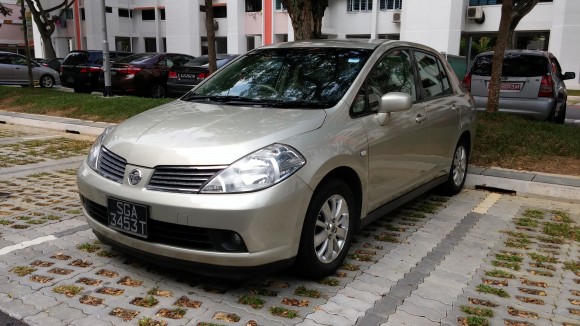 Help came recently through a cell leader and friend Sunny Chong. He had been actively helping me to look out for a used car. One of his colleagues Andrew had a Nissan Latio with a COE that runs till mid-November. His daughter bought a new continental car and transferred her Mistsubishi Lancer to him since it had two years of COE left to run. He wanted to sell his car to dealers and they gave him low prices. Sunny suggested he sell it to me for an additional sweetener. Throw in the transfer fees, insurance and the sums show a depreciation of half of $1000. I was thankful for this blessing. It is God's answer to mysearch and prayer. Does God care about such down to earth matters? Yes the God who is attentive to sparrows, lilies and grass that grows and dries up on the same day does care about COE and second hand cars. And God cares for the big picture too of course – world peace, poverty, natural disasters and human conflicts – everything serious and global.
For now I am just thankful I can go into my Latio and drive to wherever I need to tomorrow. As to whether I should extend the COE by another five years or pay a ransom for an eight year old car or go back to public transport, I have put it in God's hands. Today's worries are sufficient, and I do not want to add tomorrow's fears to today's list of concerns.