The Ark is a Pentecostal church. What a unique name. Pastor Jimmy Hoo started this church after he left the Emmanuel Assembly of God. It is small fellowship of 30 plus and they worship at the Village Hotel Bugis at 390 Victoria Street on the 6th level. I got to know Pastor Jimmy on Facebook. I was introduced to him by Pastor Peter Sze who also helped linked up quite a few grace-based churches and ministers in the region. We met once with Joshua Lee, pastor Kevin Choo and another minister and talked shop over tea at Funan Center. He invited me to take the Sunday message and I was most happy to do so.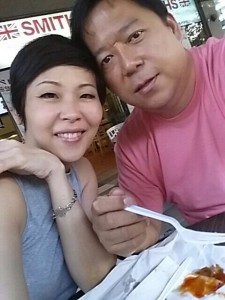 I took a cab there with my wife and my son who wanted to visit. It was the first time I stepped into the Village Hotel Bugis and the hotel function room was the size of two large classrooms. They also had a separate room for the children. I met with the members who were there early and we chatted with Pastor Jimmy Hoo and Mabel, his wife, who was very warm, hospitable and friendly. The service started at 9.30am and like the other grace-based church services I attended, the Holy Communion was conducted every Sunday. Soon I was at the pulpit and preaching a modified version of what I preached in my worship service the previous week at WRPF. I talked about how a Christian can still live under the old covenant and experience the miserable Christian life. I talked about what it meant to live under the new covenant. My main text was from Jeremiah 31:31-34. I drew my three main points and contrasts from the text itself, and drew sharp contrasts of what it would look like if you lived as a Christian under the old covenant or under the new covenant. I enjoyed partnering with the Holy Spirit in delivering the message.
After the service we had and early lunch at about 11.40am at a Bugis Junction food court. I enjoyed the nasi padang and the fellowship and warm banter. Inevitably from the topic of family, the conversation went to ministry and I heard a dramatic and  grace-filled story of how this sincere and humble couple were initiated into the message of grace, and how they moved from being burnt-out and effort-driven to a place of rest in the grace of God.
Though many people crowd the Star Vista to hear the grace messages of the New Creation Church, small churches like this also deserves better support and encouragement. I am sure there are people who love the grace message but prefer a small church setting where things are less concert-like and more family-like, less distant and more personal, where they feel less like a spectator and more like a participant. This is one church you may want to explore visiting and being a part of, if you want to learn to rest in His grace, and a have a stronger community life. Pastor Jimmy and Mabel are well equipped with the message, the experience and love to give you the care, the rest and community you need.