Triggered by a conversation
It has been some years since I went the Bible through in one year. This time I went through the Bible differently. Instead of reading, I listened through the audio Bible.
This project was triggered by a conversation with a friend, Jacob Yeo. Over lunch in November 2016, he casually mentioned that he had gone through the Bible six times in the previous six years. I was amazed and asked how he did it. He introduced me to YouVersion, which was a Bible App with many reading plans. The one he had done was The Bible in One Year with devotional thoughts by Nicky and Pippa Gumbel. I felt challenged.
The desire grew stronger in the next few weeks. I thought of preachers I knew who also had a similar practice of reading through the Scriptures annually: Michael Ross Watson and Lawrence Chua of Living Sanctuary,. I recalled a lunch I had with Liew Heng San a former permanent secretary (Law) and CEO of CPF Board. He encouraged me to listen to audio scriptures read, instead of reading them. He cited research in neuroscience that pointed out that more of the brain was more fully activated when we listened than when we read. Or something along those lines. This was new information for me. I felt God was inviting me to do this, and that he would give me the grace to do so.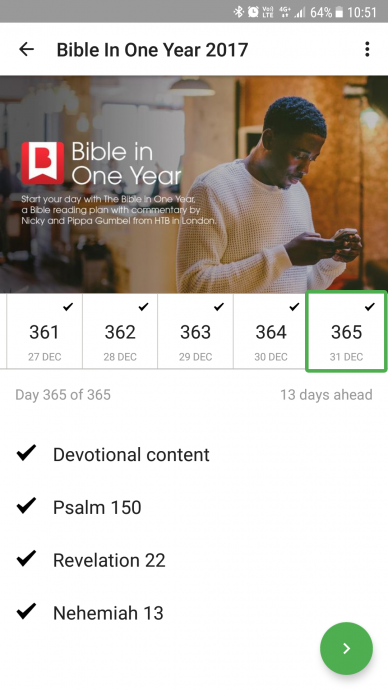 Getting started and ending well
So, I installed the YouVersion Bible App, and searched for Nicky Gumbel's reading plan, and started my journey in middle January 2017. I also encouraged some friends and the pastoral team to do the same. Wanting to complete the Bible in one year, I gradually caught up with lost time and readings. On many occasions, I would miss the readings for a few days but would catch up during my day off, or on weekends.
I would skip Nicky's devotions and go straight to the audio readings, preferring the NIVUK version because of the narrator's style of reading. Sometimes I would switch to The Message version or the ESV version for a change. I would use this reading plan in conjunction with the Bible Project on YouTube. They have lovely brief pictorial explanations of every book of the Bible from Genesis to Revelation. I went there to get a big picture understanding of each Bible book. This combination of listening to audio scriptures and watching Bible Project videos was absolutely enlightening and useful.
I was glad that near the middle of December 2017, I decided that I was going to speed up and complete my reading plan ahead of time. It was like the last burst of energetic sprint before the finish line. And it felt so good to end early and end well.
What I learned from this exercise
Here are some things I learned in this interesting journey that God invited me to:
I found that listening was easier than reading.
Sometimes my mind would get distracted and I did not know what I heard.
I was reminded of many verses, stories and themes that I forgot existed due to my selective reading of portions of scriptures in the previous several years.
I am reminded of broad themes like creation, the fall, calling, Israel, covenants, law and grace, faithfulness, God's gracious dealing with Israel and the world, salvation and redemption, kingdom and glory.
Certain books intrigued me and seemed to invite me to examine them more often and more deeply. Books like Ezekiel and some others beckon me.
What will the next leg of the journey look like? I do not know. I am asking the Lord for guidance for 2018. On my mind are a few options: meditating with the 19th annotation of the Spiritual Exercises of St Ignatius, or using some of the other plans in the YouVersion.
What about you? What aids did you use to help strengthen your faith? And what do you plan to do in 2018?