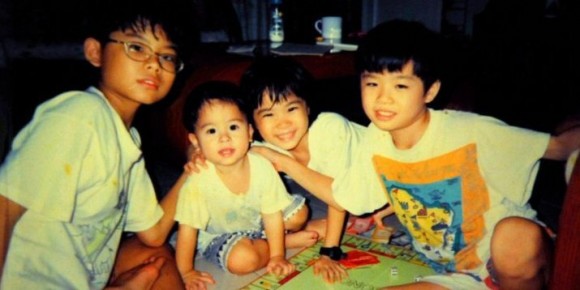 This old family photograph brings back memories of a time when my children were still in nursery, and kindergarten and primary school. It was about twenty years back in the 1990s when I lived in Bukit Batok East Avenue 4. The long wooden TV console in the background, the cane furniture by the side and the beige ceramic tiles on the floor of the four room HDB apartment.
Their mum had gone so my wife helped her younger sister, Baby, through her confinement periods, when both her children, Wen Mun and Wen Por, were born. Wen Por was a toddler in the picture so I wonder if the family was there because Wen Mun was then born.
Joshua was wearing spectacles at such a young age. He loved to read – always borrowing books from the library. Still does. Matthew was the good-looking one. Still is. Elaine was the amiable one. Still is. All were very huggable and adorable and surprising at that age. But not anymore. Now they are all in their twenties. They are more educated and smarter than me, and taller too(except Elaine), as can be seen in a recent photo below.
Twenty years have come and gone at the snap of my fingers. Will I be staring at an empty nest in another snap?