Jenni Ho-Huan, in her interesting book, When God Shapes a W.I.F.E.(Armour Publishers), exhorted women to embrace their femininity instead of allowing society to berate her for it. This specialness about females includes: "emotionality", the desire to bless, and intuition.
"Women have an incredible ability to detect a wide range of stimuli and arrange, file, stack and organize the data we gather. This makes us appear more 'emotional' as we respond to multiple stimuli at one time. Our 'emotionality', contrary to caricature, is not our weakness but our strength. It allows us to multitask, empathise, and create. This is our gift to humankind. Without a woman's head and heart for bargains, relational strength, conflict detection, timetable organization and more, what kind of world would we be living in? Women managers who embrace their femininity make wonderful leaders and bosses because they pick up cues that go beyond the Powerpoint presentation, and bother to send a bouquet to a sick employee"(Jenni Ho-Huan, 2011, 29).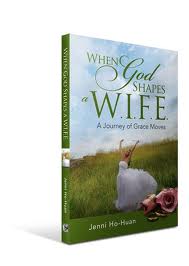 The woman's  desire to bless is evident to all and does not need further elaboration. Who hasn't heard of Mother Theresa or Florence Nightingale and others like them? Intuition is also a quality women have that is not often appreciated. It can be called the sixth sense, or gut feel. It is often misread by men. "Our sharing makes us vulnerable and we get called names like 'overactive imagination', 'controlling', 'nagging' and busybody'"(Jenni Ho-Huan, 2011,31).
Jenni's encouraging and affirmative word to women is: embrace your femininity, and let God use it to complete what is lacking in this man-world. Incidentally, as I was reading chapter one of this book, there was this young lady candidate like a lone voice in the wilderness crying out for the urgent need to look after Singapore's elderly poor. She is an NSP candidate and part of a GRC team contesting against the incumbent Senior Minister's ward of Marine Parade GRC. She seemed to have embraced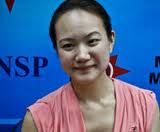 her femininity (and I hope it does not get eroded along her political journey of championing justice). She has 'emotionality', the desire to bless and intuition. Watch this video on razor.tv titled Fresh-faced Nicole Seah generates buzz . You will be encouraged by the forthrightness, intelligence and courage in one only 24. She deserves our respect and support.
Postscript: Noticed lots of inquiry about her faith.  A friend has told me the family attended Bethesda Bedok Tampines, and then Faith Community Baptist Church, and also the New Creation Church. Current status unknown.