Two churches in one building
It was an interesting concept. Two churches sharing one building is not new. It had been tried in the Clementi Bible Center, shared by the Bible Church and the Mt Carmel Bible Presbyterian Church; and in Yishun Christian Church, shared between an Anglican and a Lutheran church. This was of a different model: like a semi-detached house where each church had their own separate living space. No bargaining nor quibbling over prime time or space. The Center of New Life, and Victory Family Center shares a building on a HDB church site in Jurong West opposite the National Technological University, across the highway. It made sense to share, what with exhorbitant bids for church sites despite their limited 30 years lease. More churches should find a partner to do something similar.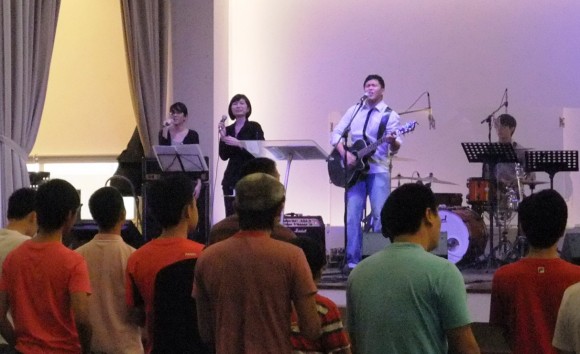 This visit to Center of New Life was prompted by wanting to visit the church some of my trekking friends attend. Linda Teo, Eric and Christine Ng, Jeffrey, and quite a few others are members there. They used to worship at Orchard Hotel but two years ago they jointly developed this present site with Victory Family Center. While retaining the city centre's Sunday worship services, now in River View Hotel, the bulk of the church moved west to its present site.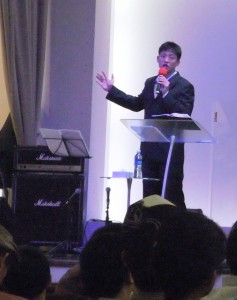 Insightful preacher
The unique feature of the worship service was the preaching. This is an Assemblies of God church. Pastor Terence Ong, a good looking tall young man in his 30's, preached from the book of Acts. It was the commencement of a series and in conjunction with the preaching on Sundays, the church was urged to read and reflect on the book of Acts during the week. What was interesting was that the sermon I heard was an intelligent man's message. This was not the typical Pentecostal message with the emphasis on inspiration, loud passion, moving people to action, and probing the conscience.  This was a message that gave insights and perspectives that were creative and progressive. It enlightened and gave you food for serious thought. This was a message for the educated, the professional, the thinking Christian.
The pastor began connecting with the crowd by making some humorous remarks about the elections. Smart move as  everyone was thinking of that anyway. Then he went into the text  to explain the  concept of the kingdom of God, and how it related to politics and power. This was not the traditional Pentecostal interpretive framework: he moved beyond that. Was I seeing one of a new generation of Pentecostal young preachers who were widely read, and have ventured beyond the traditional and hackneyed? (I did wish he mentioned something about mothers though – after all one of those who waited with the 120 was the mother of Jesus – and it was 'traditionally' Mother's Day!).
With friends
The service started at 11am and ended at 12.45pm. Mingling among the members, I chatted with Jason Jin and Sam, both of whom were from World Revival Prayer Fellowship a long time ago. Went for lunch with the trekking group at Lam's Noodles at TradeHub 21 in supremely humid and hot conditions. It was nice to just attend church: carefree, relaxed, and be open to receive.