They said
There was a spillover crowd of about sixty outside in the open air on a cool and damp Thursday night. At the front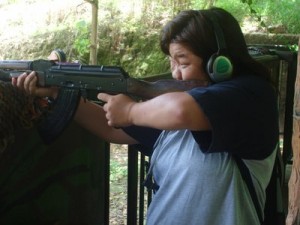 entrance, projected on the screen, was a portrait of Joanne Karen Chan. She was looking out pensively from inside a bus. We could hear the songs and what was going on inside Grace Sanctuary.
"She was full of life."
"She was real."
"Her life was wrapped around two words: relationships and missions."
"She knew what she wanted to do with her life."
"I have known Joanne Chan since she was ten years old…"
Her godly parents
I did not know her but somehow I wished I had an opportunity. Her parents I knew well. We were in the same church in the late 70's. Revival was in the air and we were immersed in the excitement, the whirlwind of the Spirit, and the love of God. James Chan and I, we loved church: we observed, studied and talked about church and ministry. When we talked church, we could talk for hours. Reserved, ponytailed and petite, Sarah Foo was a church librarian together with me. And all three of us were once on full time staff with the church.
Went home to glory
While on vacation in Bangkok, my sister in law informed my wife and I about Joanne's hospitalisation. On our visit to the hospital in the city, we were saddened to see her in the ICU. She had just begun her Master's in International Studies in Chulalongkorn University, with an intention to do development work in the Indo-Chinese region. Her heart was fired for missions, for justice and mercy ministry among the Indo-Chinese. Now she had been stricken with a mysterious illness, which the doctors thought was Japanese encephalitis. When we left after the visit, the administrative tug of war to bring her back to Singapore for treatment continued. News that she was finally flown back a few days later was greeted with relief, thanksgiving and confident prayer for her recovery. Thus on Tuesday morning, when I was told that she had passed away, my grief was beyond words, mixed with a quiet trust in the Lord.
It is going to be tough for the parents – a sword will pierce their soul. I felt for them, for I too had lost a child, but theirs will be a greater grief. She was 25 and she loved her Lord deeply. Brimming with life and purpose, her arrow was about to be shot into Indochina- so completely consumed was she by missions and a kingdom calling.
Puzzle
Her sudden departure remains a puzzle that is not lost on those who know her. It is a puzzle that cannot be fully resolved on this side of eternity. Only implicit trust in God's higher purpose will help assuage the anguish and grief, and safely leave the unexplainable in God's hands.
Though gone, she continues to speak.
Though brief, her life was lived to His greater service and glory.
Though the seed has fallen into the ground, it will bring forth a harvest.
Goodnight Joanne….we will all see you in the morning.