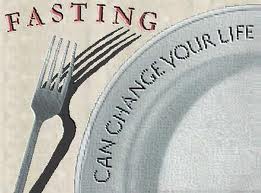 Fasting is not a legalistic must. However, Jesus did expect his followers to be led by the Spirit to fast. He spoke of a time  "when the bridegroom will be taken from them, then they will fast" (Matt 9:15).  Interestingly,  it seems fasting is not only good for the soul but also for one's physical health. We have of course known a little about this health benefit, but perhaps not in the specifics recent research has indicated. There is some research to show that fasting can protect us from brain diseases like Alzheimer's, Parkinson's  and stroke. Have a look at this report by Robin McKie, science editor at Guardian co.uk……and be encouraged when you fast!
Researchers at the National Institute on Ageing in Baltimore said they had found evidence which shows that periods of stopping virtually all food intake for one or two days a week could protect the brain against some of the worst effects of Alzheimer's, Parkinson's and other ailments.

"Reducing your calorie intake could help your brain, but doing so by cutting your intake of food is not likely to be the best method of triggering this protection. It is likely to be better to go on intermittent bouts of fasting, in which you eat hardly anything at all, and then have periods when you eat as much as you want," said Professor Mark Mattson, head of the institute's laboratory of neurosciences.

"In other words, timing appears to be a crucial element to this process," Mattson told the annual meeting of the American Association for the Advancement of Science in Vancouver.

Cutting daily food intake to around 500 calories – which amounts to little more than a few vegetables and some tea – for two days out of seven had clear beneficial effects in their studies, claimed Mattson, who is also professor of neuroscience at the Johns Hopkins University School of Medicine in Baltimore.

Scientists have known for some time that a low-calorie diet is a recipe for longer life. Rats and mice reared on restricted amounts of food increase their lifespan by up to 40%. A similar effect has been noted in humans. But Mattson and his team have taken this notion further. They argue that starving yourself occasionally can stave off not just ill-health and early death but delay the onset of conditions affecting the brain, including strokes.