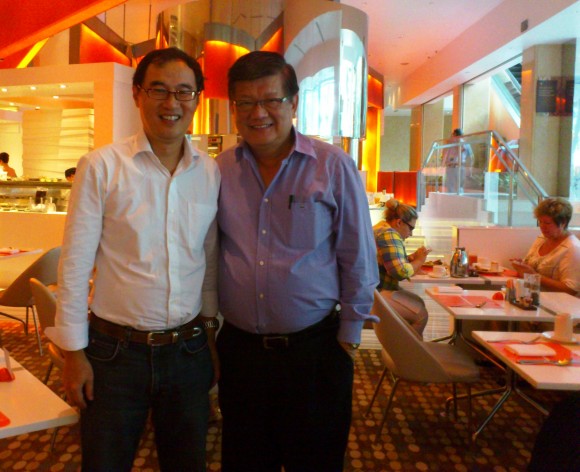 It was a good time of catching up with the founder of The New Covenant Church, Pastor Peter Sze. It's been some time since I wrote about the church that I have tracked since it opened its doors almost 3 years ago. Here are some interesting and amazing facts about the new church in Petaling Jaya.
It is the fastest growing church in Malaysia. Starting with a few families and some friends it has multiplied and having maxed out their previous sanctuary, they recently expanded and leased a whole third floor besides the floor they were at.
Despite its size there are no full time pastors or administrative staff. Everyone chips in as they best can, including the pastor, who holds a busy managing director's post in a Malaysian multi-national company.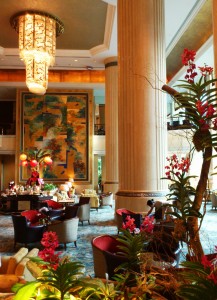 The pastor was a Methodist lay leader who has "been there, done that" in every charismatic wave from spiritual gifts, church growth, worship, to prayer warfare, and missions and cell group system, etc. What finally liberated and gained a permanent grip of him was the message of grace which he first heard from Joseph Prince's tapes. They ran with the message but at the same time made it uniquely theirs.
There is no personality cult and the pastor is a level headed, humble, unassuming and wise leader who also welcomes and allows others with gifts and maturity to help in the task of serving God's Word and His people. He has built a strong team of preachers and teachers of grace.
He is discerning and wary of doing church the way he used to, having seen the futile and frustrating fruit of human-reliant efforts. So he observes the motions of grace and life in the congregation and facilitates their expressions, rather than imitate whatever is currently popular in the conference circuit, or merely adopt best practices of bigger churches. "Want to" instead of "have to" is one such sign of such movements of grace within the church. The church is growing naturally and organically and at a pace that does not become a yoke of burden.
The church does not teach tithing and believes that it is part of the Old Covenant but believes that new covenant giving comes out of gratitude and overflowing life and the amount given should be as a person decides in his own heart. There are no offering bags passed around but there are boxes located at different parts of the facility for those who wish to give.
They teach the Bible systematically in their services working through books of the Bible or topical themes and highlighting and explaining how the texts point to Christ, the new covenant and the grace of God.
They have informally networked with many other "grace-based" churches in Malaysia and are helping a network of churches in Jakarta, in addition to their partnership with Cambodia's Barnabas Mam's church planting movement.
You can read my other reports on the new covenant church in these links: