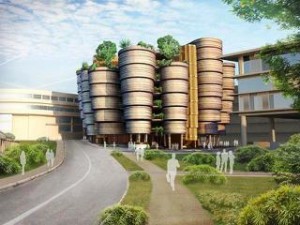 When form fits function
Last week Channel News Asia reported a bold architectural design for its new Learning Hub. It made me think about form and function in education and worship. The design had tutorial rooms that looked circular and were stacked up into towers. The design was stunning and eye-catching. More importantly it's form was aligned to its function beautifully. "The seven-storey learning hub will house 55 new-generation classrooms of the future, designed to support new pedagogies by promoting more interactive small group teaching and active learning," is how Professor Kam explained the design. The building suited the pedagogies that maximized learning. I liked it immediately. It was Winston Churchill who said, 'We shape our buildings and afterwards our buildings shape us." These NTU buildings will create a sense of community, like a family or clan gathered around a fire or a meal inside a circular shaped African hut or Mongolian yurt. The context of informality, collaboration and interaction will create a productive learning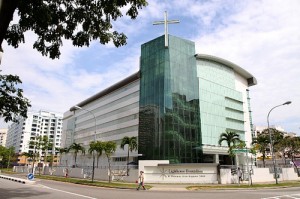 environment.
When form and function diverge

The church building too should be an apt expression of its theology, worship, community and context. We have all kinds of church buildings in Singapore. The early church buildings in Singapore were forms imported from the west that gave token consideration to the Singaporean context, mainly its weather. Case in point is the oldest church building in Singapore: the Armenian Church consecrated in 1836. Most of the buildings in the 70s onward were pragmatic, space-maximizing utilitarian buildings built in the suburbs or in the HDB sites in the new housing estates. As land is scarce and expensive, maximizing usable space for various activities took priority over aesthetics. However I must say that the Catholics have done more justice in terms of constructing church buildings that aptly express their ideas of theology, worship, community and context much more than the Protestant churches. An example of this is St Mary of the Angels at Bukit Batok East, so beautiful it even won an architectural award.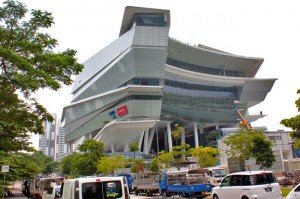 The mega-churches impact form and function
The church scene today resembles the income gap we see in most developing countries. With the rise of the mega-churches like City Harvest Church and New Creation Church we are seeing astronomical amounts being spent on facilities of spectacular scale and impact and mixed usage. This is partly due to the limits placed on the size of buildings that can be constructed on the HDB sites made available for bidding. They would be grossly inadequate for their regular meeting attendances of over 20,000.
When God's people realize they are God's real building
On the other, hand there are hundreds of churches, gatherings of God's faithful in sizes of 50 to 300 members who meet in purchased or rented premises in unglamorous industrial buildings, commercial buildings, private schools, houses, cinemas, hotels and other such buildings. These are churches who have a sharper realization that the church is not a beautiful or spacious or practical building that houses God's people, but a gathered people and community that houses God. They know they themselves are the dwelling place of God. It is in living out this revelation that we see form and function finally in embrace in the living entity called church.