It was a joy to get to know and interact with these people who are passionate about knowing God more intimately and helping others move toward God. You cannot help but feel a sense of belonging with them. They were companions and fellow-pilgrims along the same journey.
The SDFP curriculum included a compulsory faith-sharing component where we share about the ups and downs of lives, listen to each other without judgment, honing our listening and discernment skills. Of course, we do small talk too, of current cost of living, Presidential election, our spiritual directors' style, and the program ahead. My faith sharing group meets at Agape Village at Toa Payoh so we typically have a meal together at the hawker center before our meeting. We met monthly and with the sharing of life we gradually build trust and a safe space. It is probably the same with the other faith-sharing groups.
I decided to put up the groups in my blog to jog my memory should I meet them again. Remembering names seems to be getting harder. I face a person, knows him quite well, but the CPU unit in my brain is slow to bring up the name. Having this blogpost will help me for sure because after the program it may be some time before I see many of them.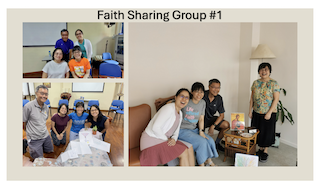 Big pic L to R: Caroline, Amelia, Chin Meng, Joanna.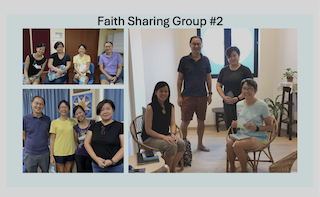 L to R: Andrina, Kenny, Teresa, Margaret.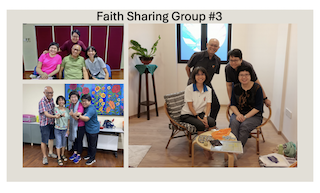 L to R: Eileen, Seng Chor, Dorothy, Dawn.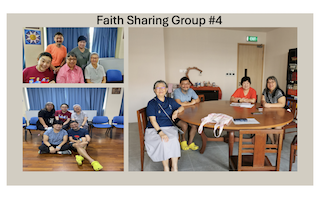 L to R: Sr Clara, Malcolm, Juliana, Corinne.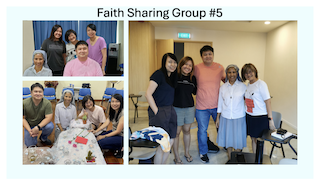 L to R: Serene, Fabiola, Brian, Sr Bernadetha, Lisa.
You may be curious about how ecumenical my course mates are. Most are Roman Catholics with two religious. Among the Protestants are a Pentecostal (that's me), one Anglican, two Methodists, two Evangelical Free Church members, and three Presbyterians. Five of the Protestants were or are currently in full-time vocational pastoral work.
While we have graduated from the program, we were encouraged to continue with our faith-sharing groups, and to continue receiving spiritual direction and supervision, as we embark on this ministry of accompanying others.