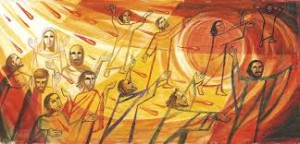 I have always been thankful for my Pentecostal heritage. Like a river of life, it has enriched, fertilized and nourished my spirituality. I have many reasons to be grateful and here are just a few of them:
The Pentecostal experience has made the reality of God's presence and activity in my life is undeniable and unforgettable.
It  gave me a vision of how great and alive and loving our God is.
I have a deep assurance of faith and never doubted the reality of God throughout my Christian life.
I have experienced the spiritual empowerment and abilities of God's Spirit in diverse ways.
I am glad to be part of such a vast and enriching spiritual movement.The Pentecostal movement has resulted in the salvation of millions of unbelievers around the world as well as impacted social concerns like political oppression, poverty, racism, unemployment, and even the green movement.