I do not keep the sabbath as a law, but I live by the wisdom of sabbath. Christ is my sabbath. In Christ I have entered a spiritual rest from all works and labouring to earn salvation. However there is wisdom to be drawn from God's idea of rest, remembering, and relishing one day a week.
One day in the week, usually Monday my day off, I choose to slow down to rest and avoid the kind of work which I usually do. I take time to meditate and pray. I try to delight in everything throughout the day. I rest.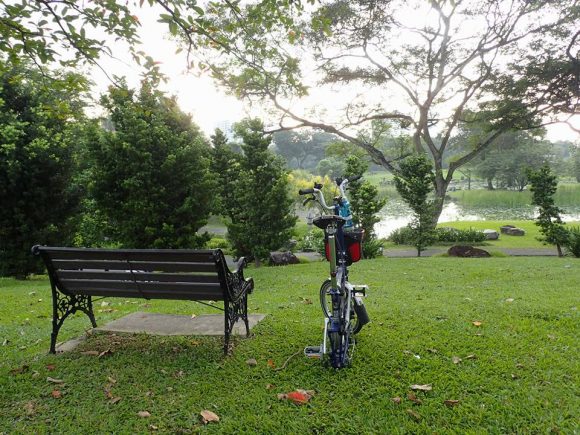 This Monday morning, I cycled to the Japanese Garden and found a bench facing the disused golf course of the now defunct Jurong Country Club. The government seized it for its vaunted development of the rapid rail station and peripheral mixed development.
Slowing down takes time. I was sitting there still and silent for 40 minutes. My thoughts were everywhere. So I sought to focus on my physical senses especially the sense of sound and touch. It helped. I shut my eyes, felt the cool breeze, and listened. Immediately, I heard the distant and faded pounding of a piledriver– thud, thud, thud. I heard something that sounded like a motor boat in the distance. There was the sound of excavators at work. There was the chirping of small birds and sometimes the squak of the heron. A golf cart rolls by behind me and I can hear that too. Must be the park management staff. Even the crickets whistle incessantly. A lot of construction work is going on at the fringe of the Jurong Lake and some even in the Chinese Garden.
Slowly my wandering thoughts which were like distracting monkeys jumping all over the branches of my mind, calmed down and quietened, as though asleep. Finally I did come to a place of restfulness and I meditated on the stages of prayer and the life of prayer that Jesus lived. Some lovely thoughts and took some notes of the insights.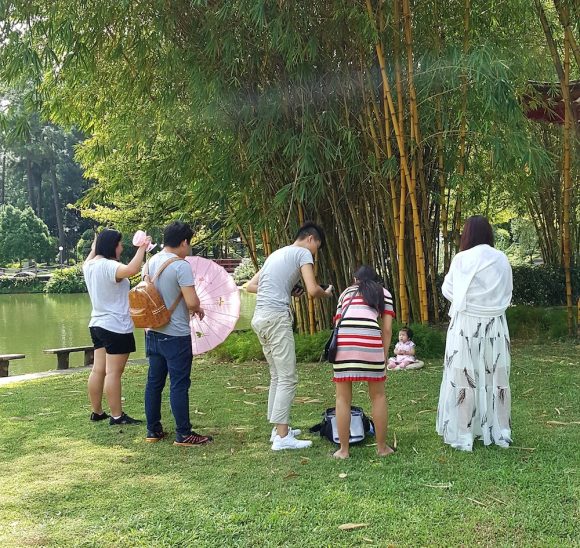 I rounded off my time with the Lord cycling around the Chinese Garden and saw this couple having a photo shoot of their infant child. It was the first time I have seen a child photography session in the Chinese Garden.