Before the trip my main concern was the weather. How cold would it be? I was afraid I would be ill equipped to cope with cold weather. I prefer hot weather to cold. To be safe, I packed in three cashmeres, a woolen, several long sleeves, a long pants with fleece lining, a down vest, a jacket, a light windbreaker, gloves, a scarf and a beanie. During the trip, I had to play around with the layers day by day, and at different points in the day. It worked. However, the one thing I forgot was an umbrella. On the third day in Osaka, I bought a Made in China foldable for a few Singapore dollars.
Wednesday, 14 March 2018 – Flight to Osaka
We met at the airport at 12 noon and the flight was at 2.30pm. We arrived at about 9.20 pm. We actually lost a day in travel but saved $200 because this SIA ticket was cheaper than the overnight one. From the airport, we took a train to Hotel Nissei, Osaka where we would stay for two nights. Late supper was in an eatery that happened to be open at that late hour along a shopping street. Nothing remarkable except very friendly, young waiters.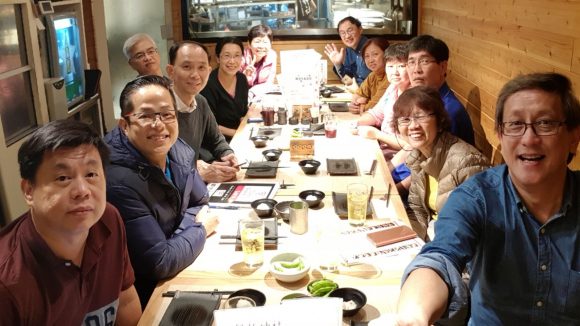 Thursday, 15 March 2018 – Glimpses of Osaka
Hotel breakfast was buns, hardboiled eggs, and mayonnaise mashed potato with hot coffee and tea which was fine by us, but by the second day I was happy we were changing hotels – the queen-sized bed was the size of a super-single and it creaked. We started off at 9am and explored around the hotel for a while chalking up an hour or so in a Daiso nearby. Then we went in search of an unagi (eel) restaurant near Hommachi Station (M18). It was deliciously inexpensive. Thick, tasty grilled tender flesh over fragrant Japanese rice. It was a chain restaurant: Unatoto.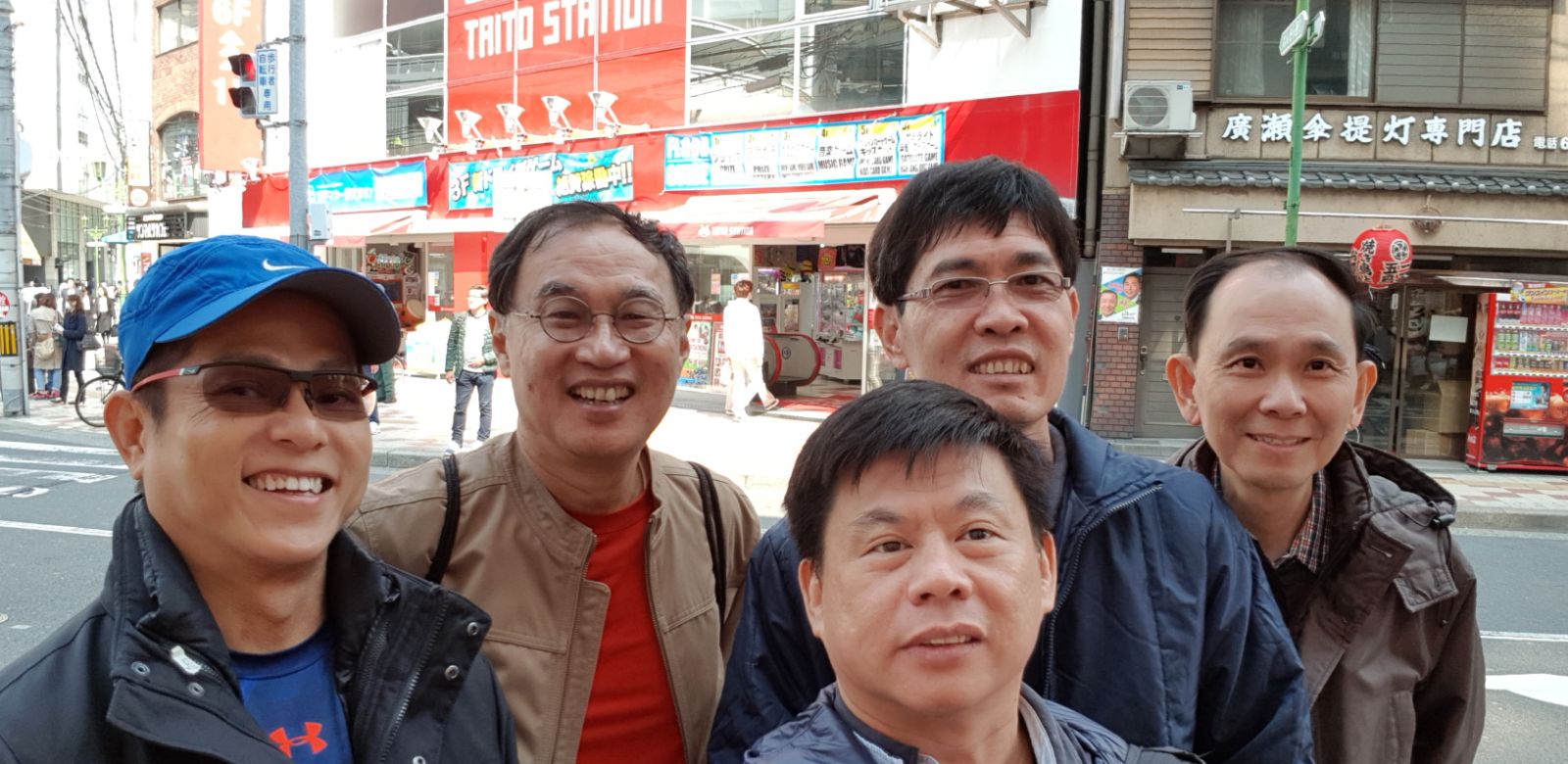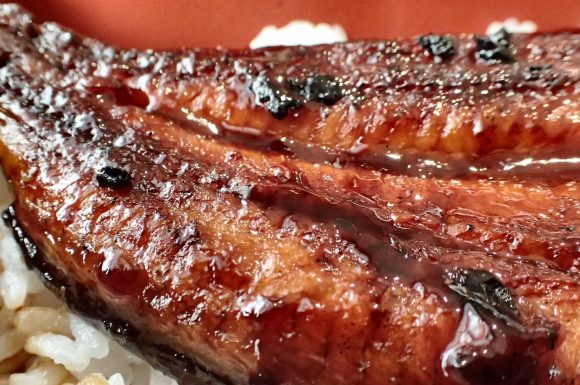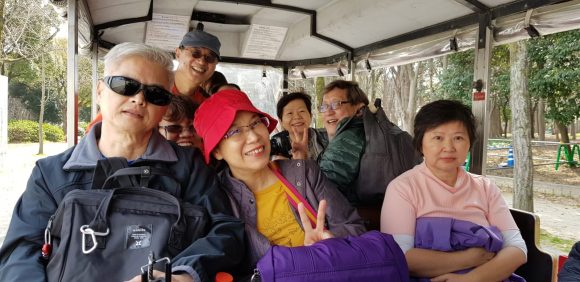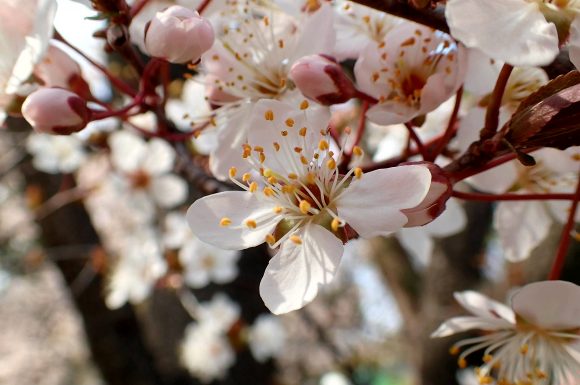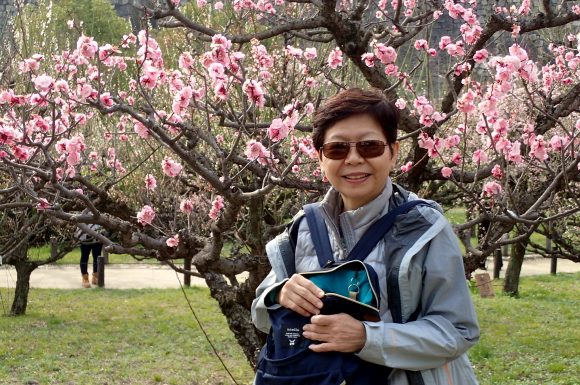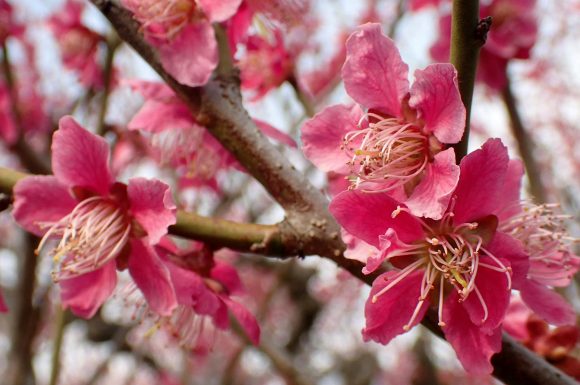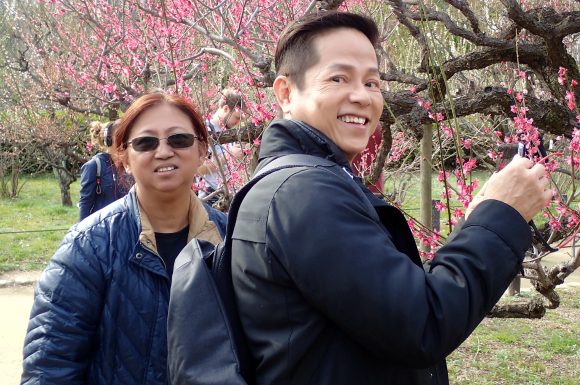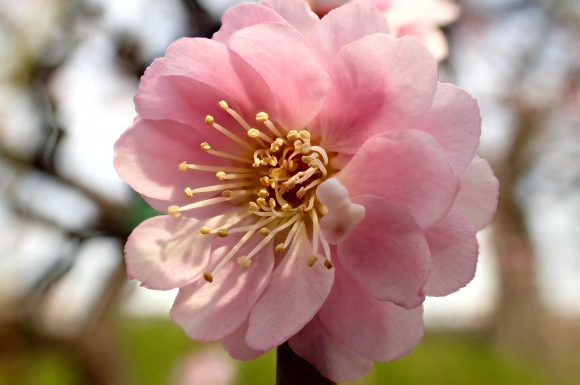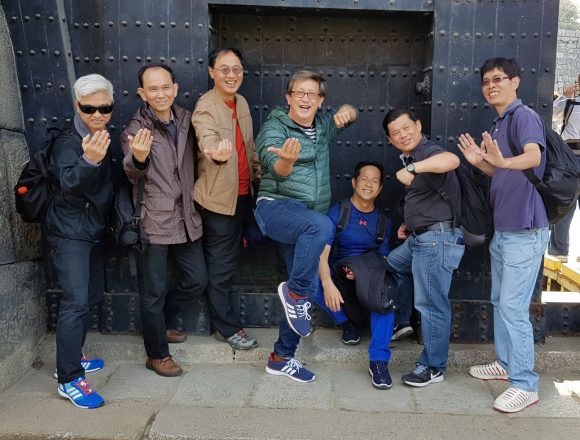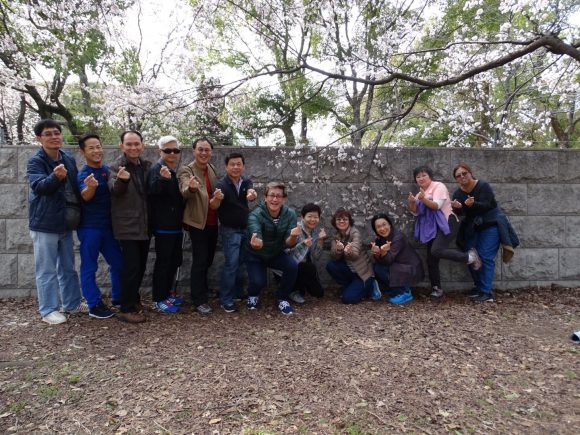 We then headed to Osaka Castle Park and there we were transported around the grounds in a road train. We were not keen on entering Osaka Castle, as we have been to quite a few castles before. We wanted to look at the plum blossoms in the park and that we did.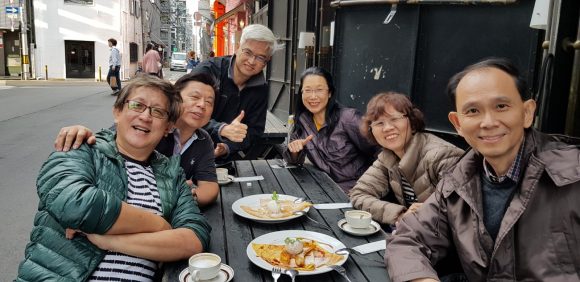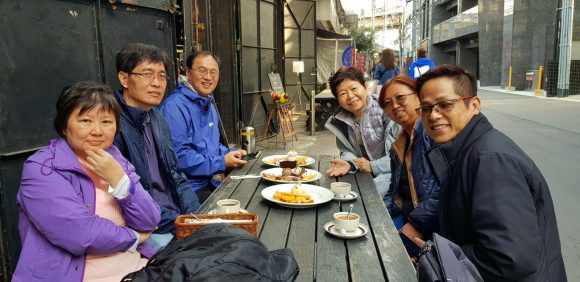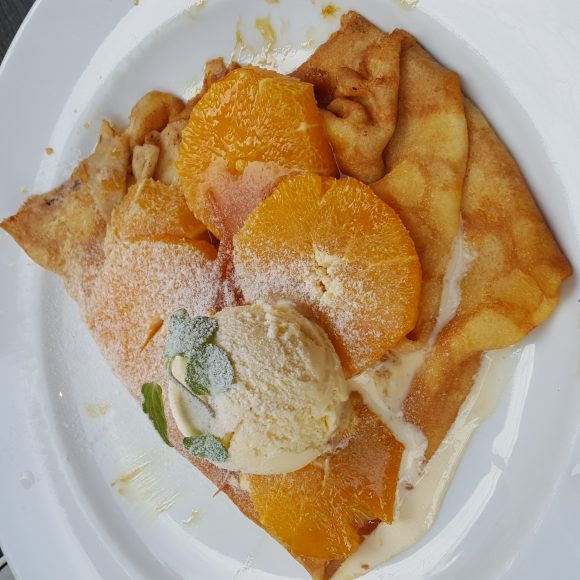 We explored a few covered shopping alleys at Barbara shopping area for an hour or so. Tea was tucking into fantastic Japanese crepe together at a cafe, and observing how uniquely fashionable the passersby were, especially the ladies.
When the weather is hot all year round like in Singapore, comfort takes priority: Polo shirts, round neck T-shirts, bermudas, blouse and skirts. In a cold country, there was so much more you can and have to wear: hats, scarves, gloves, stockings, boots, jackets, layers of clothing, vests – it was fashion galore.
We searched for a few second-hand shops but the pre-loved clothes were all branded stuff and were too expensive. A couple did spot and purchase for their young adult sons a few Paul Frank limited edition T shirts with cute monkey prints at prices you would pay for a brand-new jacket. This was a revelation for me!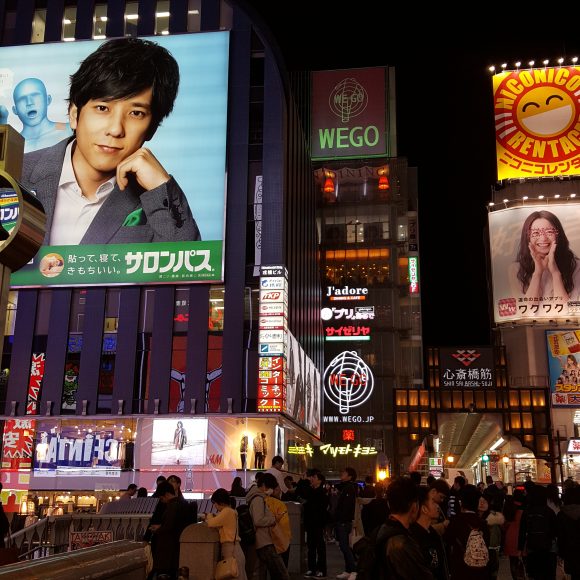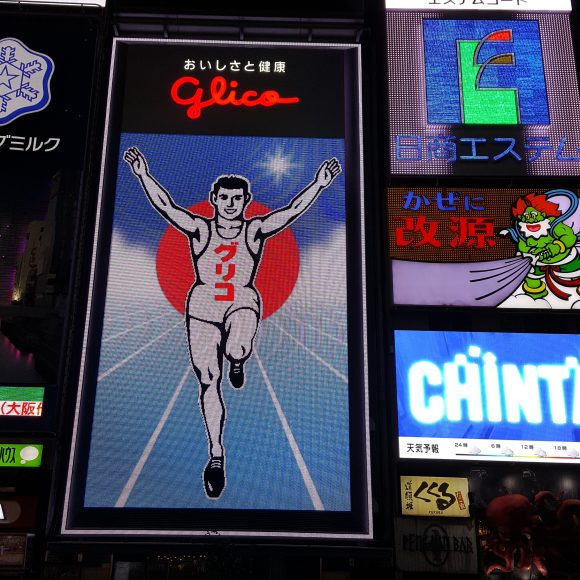 From there we went to that famous street with that huge Dotonburi Glico signboard of a runner hitting the finish line, and a gigantic crab with pincers that move. We walked around there to soak the atmosphere, enjoy street food like takoyaki (octopus balls I call them) to look for our dinner, which was for me a forgettable ramen (wheat noodles with toppings). We slowly walked back to the hotel through the shopping alleys and my wife hunted for cosmetic products my daughter requested. It was a long day. We walked thousands of steps and many kilometres.
My first impressions of Osaka are that it is clean but drab with buildings that are old and boring, and in dismal shades of grey, brown and neutral colours. The grey and cloudy skies of autumn only accentuated this feeling of monotony, darkness and gloom. How do the Osaka people (15 million) survive the winters and autumns? I guess their shopping streets give some relief with their bright colours, lights (especially at night) and variety of designs.
Friday, 16th of March 2018 – Kyoto Arashiyama and Sagano bamboo forest
In the morning, we went to a street (near Nissei Hotel) with many shoe wholesalers. Unfortunately, there was nothing interesting to buy and we moved out of our hotel at 11am and travelled to Arashiyama to be at the beautiful Sagano bamboo forest. We checked into the Arashiyama Business Hotel, a smart hotel with lovely views of the bridge and river.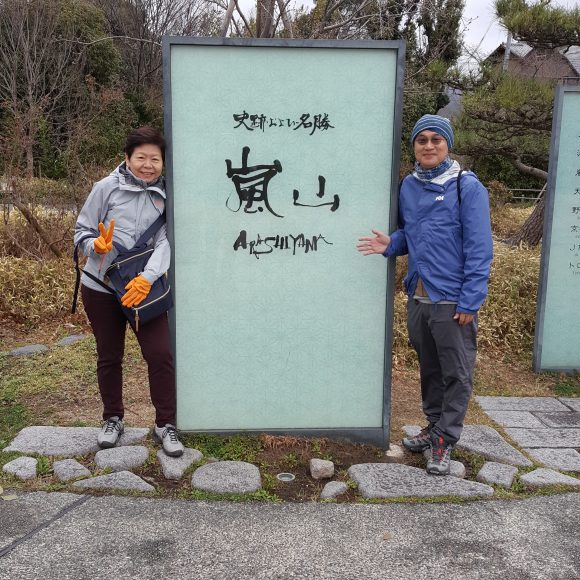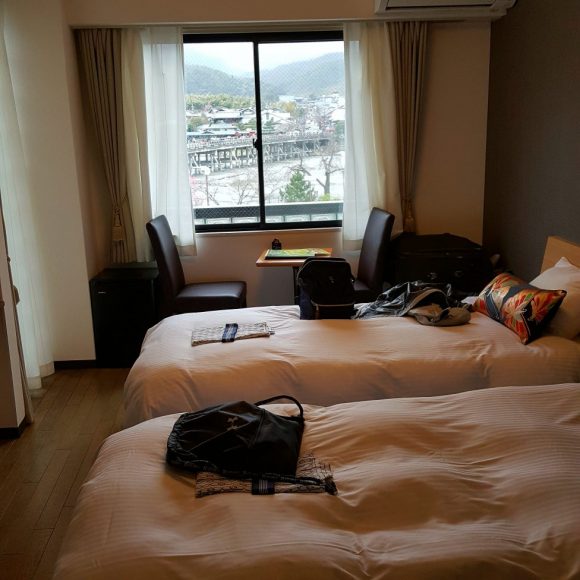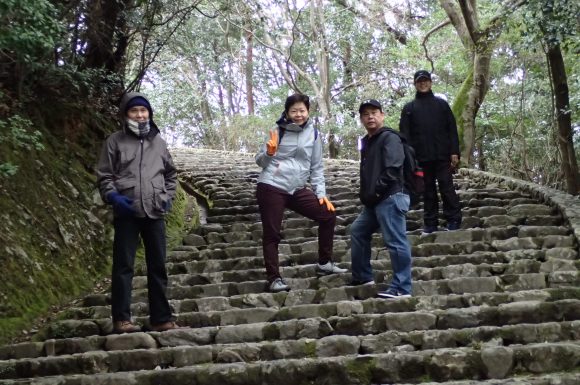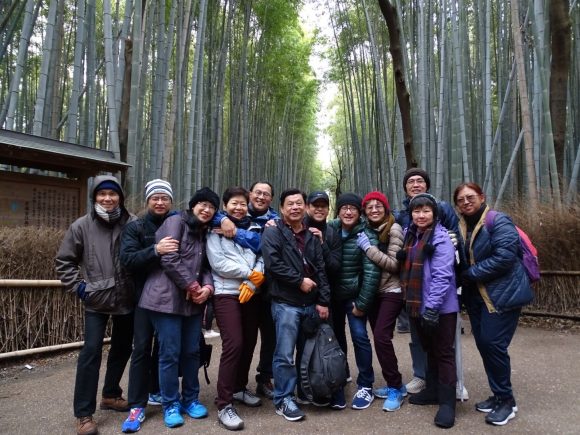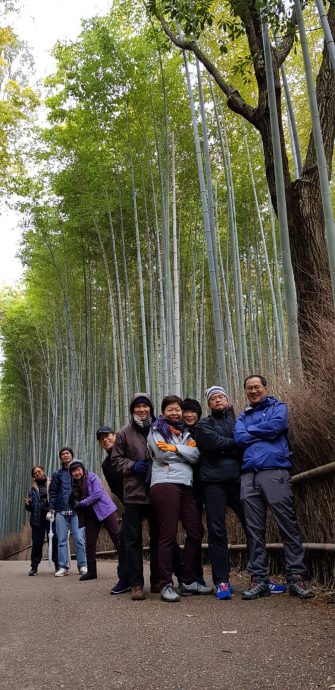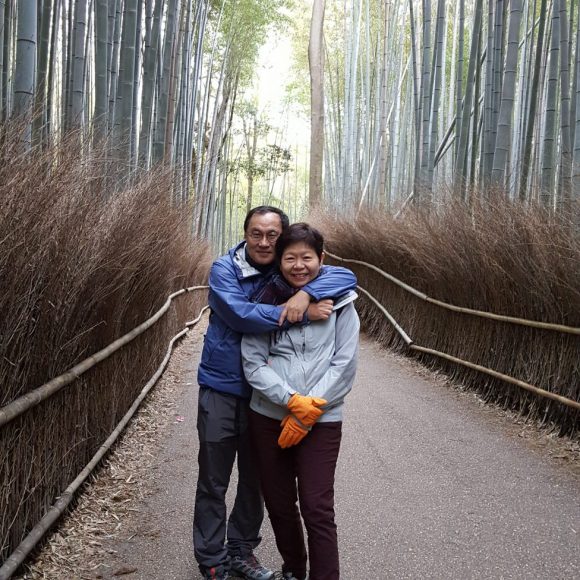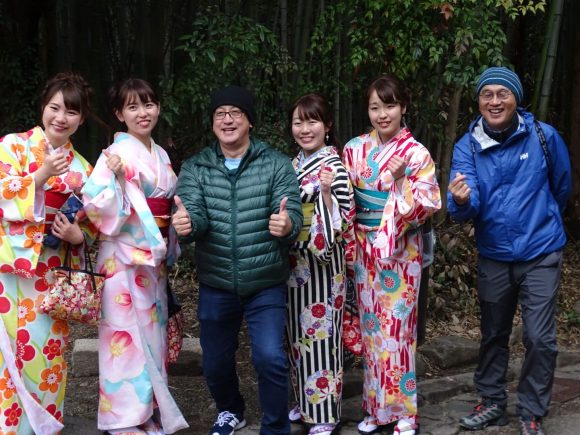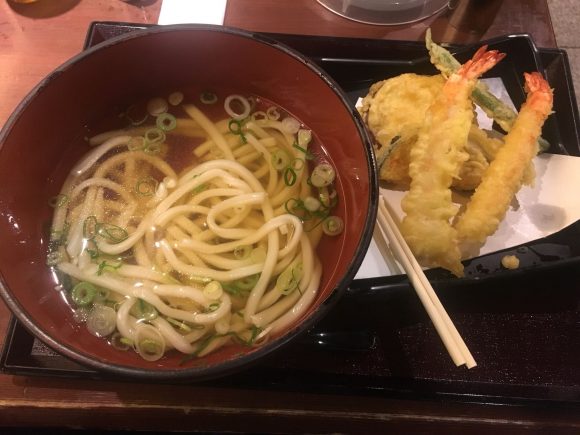 We quickly went off to search for the bamboo forest. It was a 30-minutes walk before we reached the beautiful forest. Surprisingly there weren't that many people. Perhaps the earlier drizzles had dampened visitors' enthusiasm. Anyway, we spent close to an hour taking pictures, and more pictures and more pictures. The path of the bamboo forest led away to houses on both sides of a path that led into the main tourist thoroughfare. There on the main street we walloped the best udon and tempura of the trip.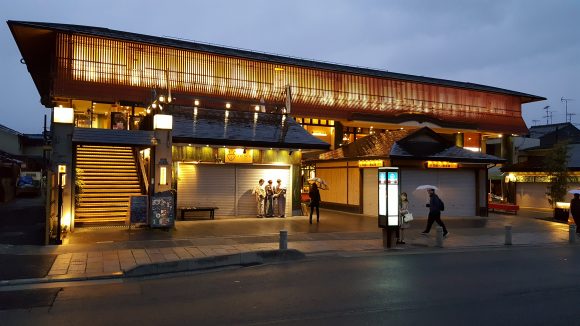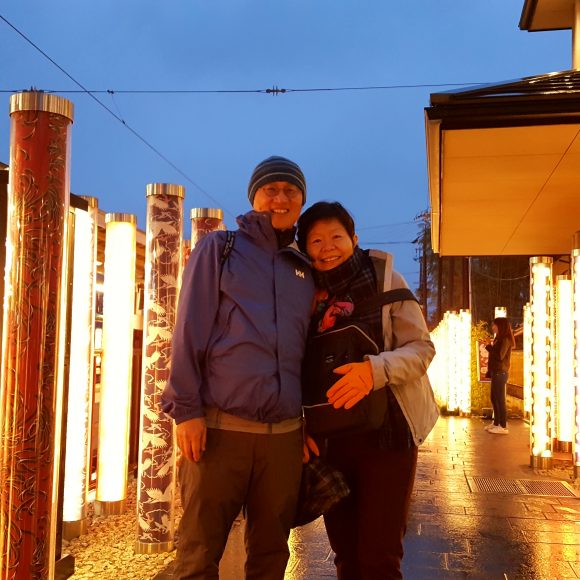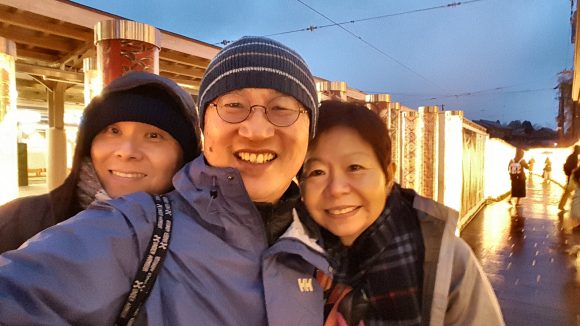 As darkness fell we went to the kimono forest, a creative collection of gorgeous cylinder-shaped lighted-up pillars displaying kimono designs that edged both sides of the path to the tram station. I thought it was such a great idea that Singapore should adopt somewhere for tourists to shoot videos and take selfies. Should not be kimono but maybe orchid patterns  of all kinds.
We ended the evening in the single men's room with fellowship, tid-bits and thanksgiving. It was comforting that this hotel had such lovely rooms.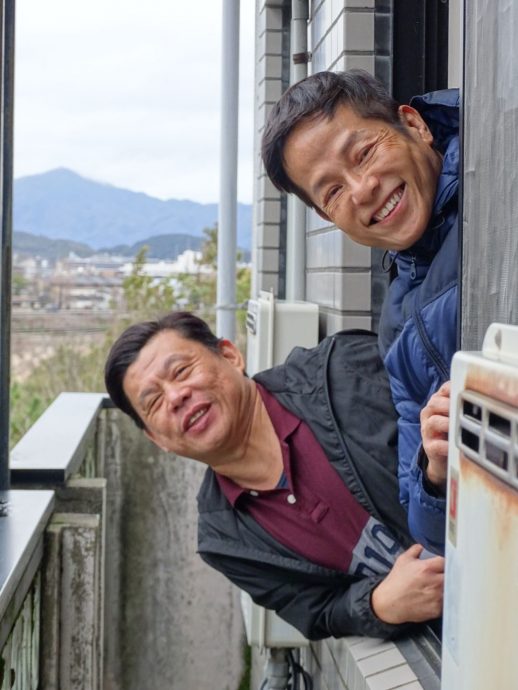 More to come in future posts.