This Wednesday morning, Alvin and I were relieved of our duties on-site in order to help Noi  bring an elderly male amputee, Won Sum, a diabetic patient of about 70 years old, from his slum home to the hospital. As the staff were all women, we were asked to help carry him to the car. It turned out to be quite a forbidding experience. Zach the church team leader wisely felt the task would be more suitably accomplished by us. After all, a medic and a storyteller, would not be missed much by the other skilled team members.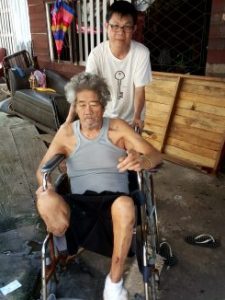 We were driven to another part of the slum and walked a hundred metres of narrow walkway with some steps to the home of the amputee. Outside there was a damaged sofa, a rusty, old wheelchair, a few pails of water, and smelly poop. I thought it was dog poo. Soon we discovered the amputee who lived alone virtually lived just inside his door. His food, water, medicines, were all inside his home within an eight feet radius from the door. Our task was to carry him to the car so that Noi could bring him to the hospital to clean his wounds on his left foot.
We washed away the poo outside and cleared the area so we could bring the wheelchair in and lift him up on it. That itself was not easy. He was heavy (and we were not strong). He smelled. His pants kept slipping. Finally by two of us using one hand on his thigh and one below his armpit and the Ruth Center staff pushing the wheelchair under him, we finally managed to move him out of his home to the waiting car.
The next big problem was carrying him from the wheelchair into the front passenger seat. He had little arm strength and he was too heavy for both of us to lift in that cramped car space. Only after several tries did we finally manage to get him into the car.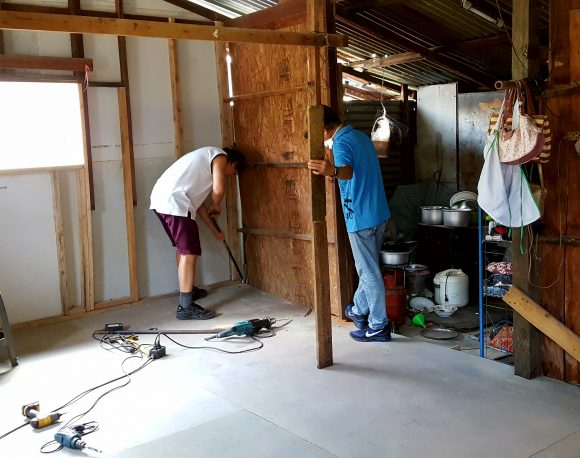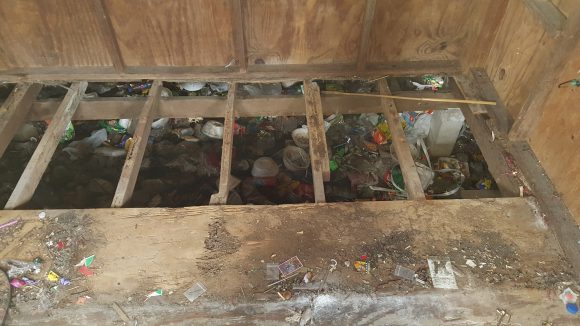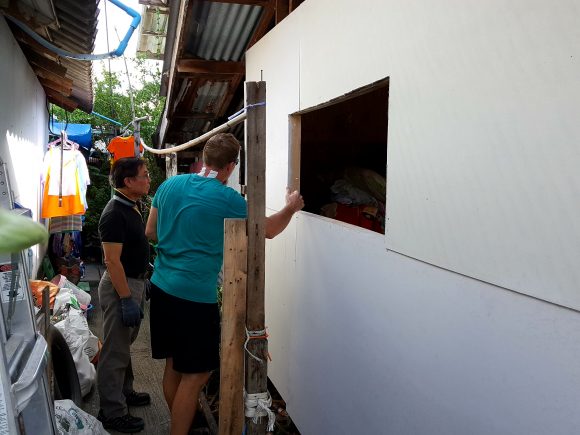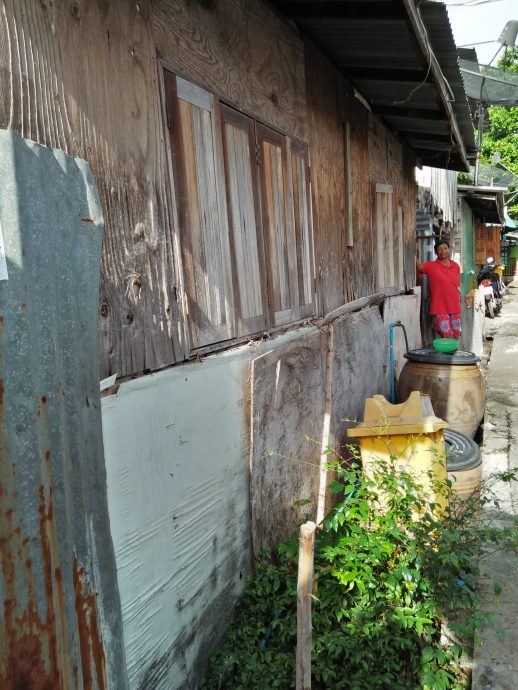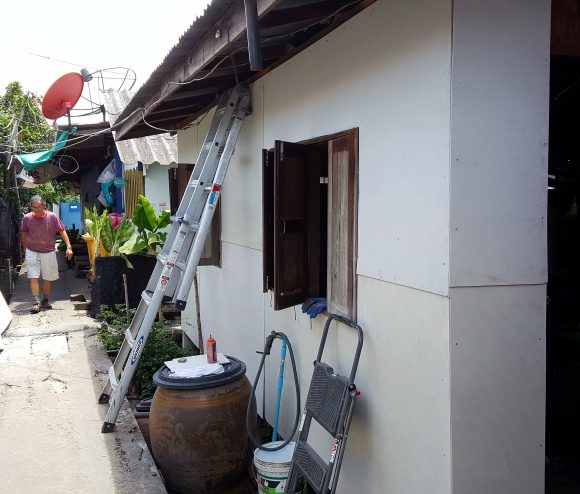 We then went back to the construction site and there the team was making good progress in drilling screws into the floorboards, and wall boards. There were also rotted beams that had to be replaced, and the divider wall between kitchen and living area to be reinforced. It looked as though we would need another day and a half to finish the sidewalk.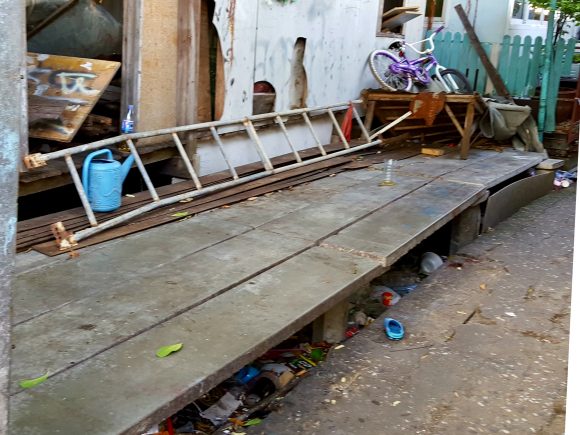 Last year, we had a church camp with a missions component and we built a concrete sidewalk so that the people living around there could have a community space to gather and chat. We passed by the sidewalk on the first day and found that it had a ladder and some junk on it. I felt disappointed that what we intended had degenerated into another dumping ground or storage area. However this was not to be so. I went to check the place at about lunch time and I saw some women eating and some of them socialising around a game of cards. Later in the afternoon, I checked again. This time another group comprising young mothers and their children were chatting. It felt gratifying that the original intention of the space was attained. I must report this to the church. They will be encouraged by this development.