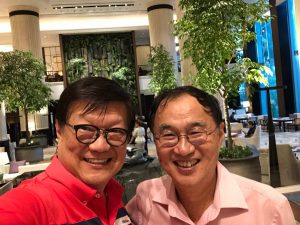 I am so behind in my blogposts. As I cleared the photos on my phone I saw this pic of Peter Sze and myself dated 22 August 2018. The pleasant memory of that short time of fellowship came to mind. I am so glad of developments in the church he leads. New Covenant Church in Petaling Jaya is a marvellous church, one that defies logic. You will know what I mean if you read my previous posts on this unique church.
We have not been able to meet for some time because of busyness so to be able to do so was something I treasured. I cannot remember what I ate because we were more absorbed in conversation.
When I first saw him I was struck by his loss of weight. He looked trim and younger. He told me he reduced refined carbohydrates and walked a lot. This is losing weight the healthy way. I was happy for him and concerned about my gradually bulging "middle kingdom."
It was great to hear about developments in the New Covenant Church:
They have moved to exciting new premises. See here.
Their school has grown in enrolment.
He has appointed pastors – leaders who have a track record of functioning as shepherds/leaders even before they were appointed. The appointment only affirmed what was already there.
The last time I worshipped with them is now a distant memory. If I do go KL I would like to pay them a visit. Happy the church is doing well.